Scotland boss Levein comforted by strength of squad
Last updated on .From the section Football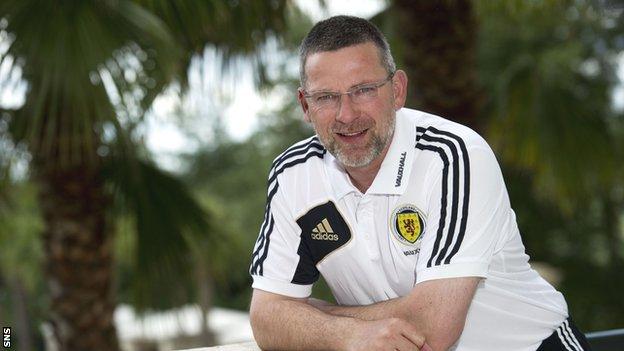 Manager Craig Levein believes the quality of players at his disposal despite call-offs is proof that his Scotland squad has strength in depth.
Eleven players are unavailable through injury or illness or for family reasons for the friendly against the United States in Florida early on Sunday.
"I look at that and I look at the group that we've got here and I feel that we are quite strong," said Levein.
"I don't think we have been in this position for a while."
Speaking ahead of the Jacksonville match, the Scotland boss added: "I've got 11 players who aren't here and they are guys who have been in starting positions.
"Six of them play in the Premier League.
"This will be a tough match. They are well above us in the rankings, they are an experienced team and they've got all their best players here and they are preparing for qualifiers.
"There are a lot of things in this game that go against us but I have great confidence in this group of boys to do well in those difficulties.
"Part of the reason for that is their attitude and that's important."
Aston Villa's Barry Bannan suffered a slight knock in training earlier in the week but is expected to be fit to face the Americans, who are ranked 29th by Fifa, 19 places above Scotland.
Shaun Maloney will earn his first cap since November 2010, while Matt Phillips will make his international debut after being forced to pull out of the friendly against Slovenia in February through injury.
On the Blackpool winger, Levein said: "I wanted to play him in Slovenia, I wanted to play him and James Forrest.
"It was a bit of a blow because [scout] Mick Oliver has been trailing him and we have been working really hard to get him on board.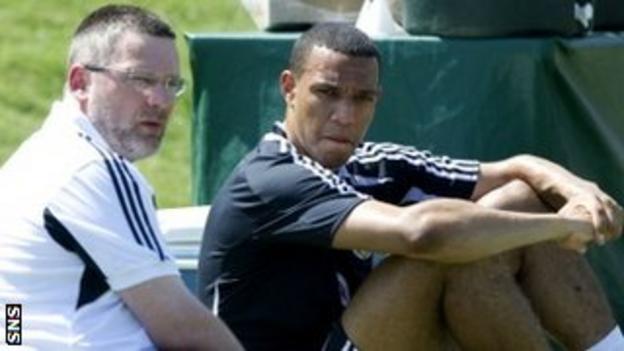 "I've been really excited when I've seen him play. I've been down at Blackpool a lot. He played really well again in the play-offs and the play-off final.
"For me, having him and James Forrest in the team will give us another dimension, something we haven't had before, which is real pace.
"In international football, particularly away from home, with counter-attacking football, you need real pace in the team.
"We have had a lot of really good players but we haven't had that real electric pace that those two have got and it does make a huge difference away from home.
"I know they are young lads and I don't mean to put a lot of pressure on them but their particular talents are something we don't have.
"That's what we are looking for - to have more and to have better."
Cardiff City striker Kenny Miller will captain the Scotland team in Darren Fletcher's continued absence as he recovers from a bowel condition, but he is clear that the Manchester United midfielder should reclaim the armband as soon as he returns to the squad.
"Whether it be myself or big Gaz [Gary Caldwell] who has been filling in for him, we know that Fletch is our captain and our leader," he said.
"That's why we are hoping he does make a speedy recovery and gets back playing in the team as soon as he can.
"He is a huge loss, not just on the pitch, but off the pitch as well.
"He is a strong character within the team, he is somebody we miss and we wish he gets back as soon as he can."