Another name enters race for Sierra Leone FA presidency
By Mohamed Fajah Barrie
BBC Sport, Freetown
Last updated on .From the section Football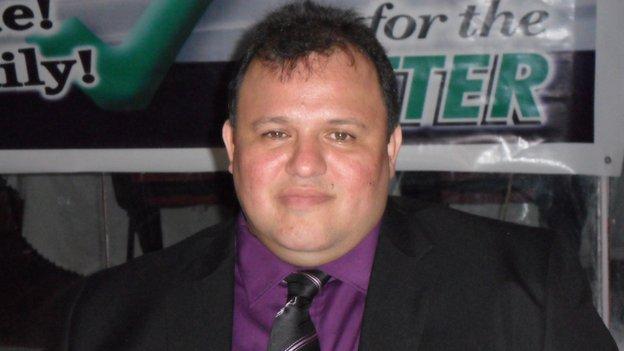 Former Sierra Leone Premier League board chairman, Rodney Edmond Michael, has joined the contest to become the next President of the Sierra Leone FA.
The 39-year old has spent over two decades in football administration and runs a football foundation.
He is the second candidate to declare his intention to run for President, and follows Isha Johansen who is the first woman to vie for the position.
The two are believed to be the main contenders.
Michael says there are lot of problems in Sierra Leone football and insists he is the fittest candidate to effect necessary change.
"The problems in Sierra Leone football are many," Michael told BBC Sport.
"There are lots of administrative lapses in football, and the technical structures do not exist."
He added: "After spending 26 years in football administration I believe I have the solutions to the problems, to put Sierra Leone on the international map."
Michael was Chairman of the Bo District Football Association for a six-year period and was one-time Vice-Chairman of the Sierra Leone's Southern Region Football Association.
He was Chairman of Sierra Premier League Board for a season in 2011 but resigned on principle after falling out with the current SLFA leadership.
This, Michael hopes, will be third time lucky, having twice lost SLFA elections in 2004 and 2008 respectively.
"Without doubt I'm the fittest and the best person to bring about change," he claimed.
"Everybody believes that I've what it takes to change the game but it's left to the 47 delegates to determine the next President. I believe if it's based on ability they'll vote for me."
The SLFA Presidential elections will take place in July.