Scotland manager Levein bemoans lack of player impetus
Last updated on .From the section Football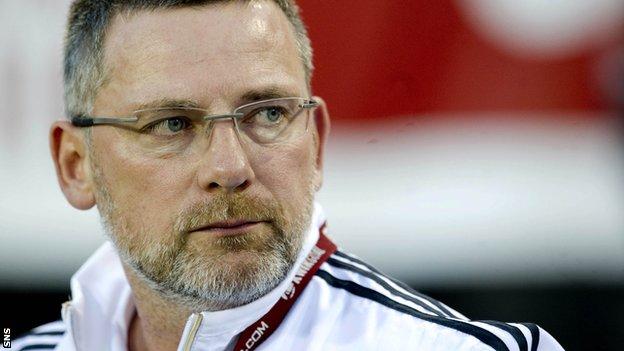 Scotland boss Craig Levein admitted his players looked like a team with nothing to play for as they crashed to a 5-1 defeat by the United States.
Levein had high hopes ahead of the friendly in Florida, despite a 19-place Fifa rankings gap between the sides.
"I think a brief assessment of the game would be quite difficult," said Levein.
"There was one team focused and ready to play and another who looked as though they had finished the season and had nothing to play for."
The hosts enjoyed a blistering start to the match with two goals in the opening 11 minutes in front of a record crowd of 44,438 for a friendly in the state of Florida.
Landon Donovan netted a hat-trick while Michael Bradley and Jermaine Jones completed the rout, with Geoff Cameron's own-goal failing to spark the Scots to life.
Despite the humbling defeat, Levein conceded that his US hosts were formidable opposition and Scotland had failed to gain any traction in the blistering Jacksonville heat.
"I have got to recognise that the USA played extremely well," said Levein.
"They started the game very quickly and before we knew it, we were two goals down.
"We didn't give ourselves a chance in the match tonight.
"But I've got to recognise that there are two teams and I thought the USA were very good."
Meanwhile, USA manager Juergen Klinsmann was pleased with the style of play adopted by his players.
"We saw many elements of what we have been talking about," said Klinsmann.
"A fast-paced game, nice tempo, one-two touch combinations through midfield, finding our forwards, having pace in the build-up from the back, no long balls."
Klinsmann added: "I think we saw all those elements. Obviously it is more difficult to play that way against Brazil or against Italy but I think the players understand more and more what we are trying to achieve."