Euro 2012: Trapattoni says he's 'not stuck in the past'
Last updated on .From the section Euro 2012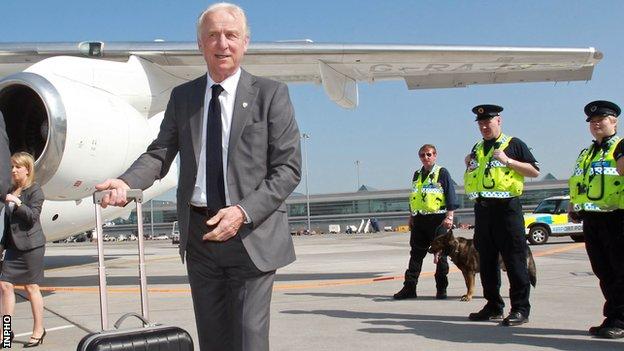 Republic of Ireland manager Giovanni Trapattoni has insisted that his ability to keep pace with modern football thinking has been key to his continuing achievements.
The 73-year-old's Irish tactics have been criticised but Trapattoni insists that he is not stuck in the past.
"I have had many opportunities in the past also because I played in finals as a player," said the Republic boss.
"But that is the past. It is important I show everyone I am still useful."
Trapattoni added: "That's important because football changes and it's important I go with football. I still know about the old football.
"There are teams that win and there are teams like Bayern [Munich] which played better [than Chelsea] and lost the Champions League final. That's football.
"I follow this football, the new football."
Trapattoni's spell in charge of Italy was one of the few in his career which did not bring tangible success.
He took them to the 2002 World Cup finals in the Far East but saw them eliminated by co-hosts South Korea in the second round.
A similarly disappointing showing at Euro 2004 led to him being replaced by Marcello Lippi.
However, Trapattoni's emphasis on what he refers to as "the little details" has served the Republic well over the last four years.
Asked how different these finals will be to those he has experienced in the past, Trapattoni said: "Every four years, it changes. The referees change, the culture changes.
"Ten years ago [at the 2002 World Cup], the old Ireland side played very well but in the past 10, 12 years, it is completely different football."
Trapattoni and his squad left Dublin on Sunday morning for their pre-Euro 2012 training camp in Italy.
The Republic had a morale-boosting 1-0 win over Bosnia-Hercegovina in Dublin on Saturday but then lost Keith Fahey from their 23-man squad because of injury with Paul Green called up as a replacement.
John O'Shea remains the Republic's most concerning injury doubt but he is expected to be confirmed in the squad when it officially declared on Tuesday.
Trapattoni insists that his pragmatic approach can bear fruit in Poland and Ukraine.
"What I ask always of the team is that we believe in ourselves. We have shown them what we want them to do and they understand.
"I have said many, many times, there is the show and the result. You can have a beautiful show, but without a good result...
"After three days, the result remains, but the show is forgotten, and they understand this."