Nick Powell: Crewe Alexandra prepare for offers
Last updated on .From the section Football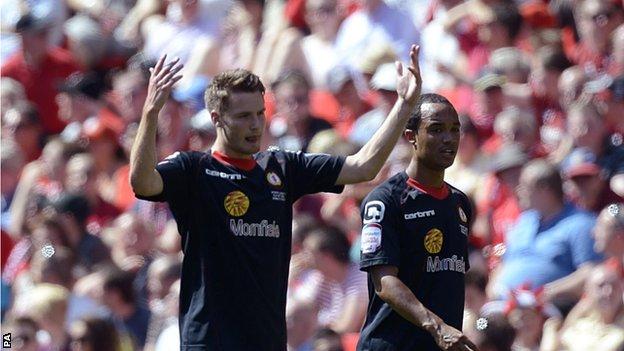 Crewe manager Steve Davis expects to receive a bid for play-off final hero Nick Powell in the next week.
"I know there's been a few bits in the papers about him and Manchester United but we've not had any solid offers," Davis said.
"But I think it will come. I think next week you'll see something develop."
Powell, who was named man of the match at Wembley, won all five gongs at Crewe's awards dinner in April.
And Davis said the Alex have intentionally been playing down the rumours for the past few weeks: "He's been kept quiet before the game, we didn't want too much distraction.
"He's a special player who produces special things on big occasions. He's a big game player. He's done that many times this season. For a lad of 18, it's a great start for him.
"I think he will go to the Premier League. Whether he'll do that in the next 12 months, I don't know. But he's a very capable lad."
If Powell does leave for a higher division this summer, Davis does not expect to see him return to the Alex on a temporary basis.
"I'm not sure they'll loan him back," he said. "But it would have been great for us.
"He'll play every week and develop his game. All these young players will only get better by playing. Wherever he goes, we'll see, but I don't think he'll come back."
And Davis accepts the club, who have produced plenty of future internationals in their famous academy run by former manager and current director of football Dario Gradi, will have to cash in on their key man.
"It boils down to the finances of the club," he said. "If the right offer comes along I think that's got to take precedent over keeping him at the club for another 12 months, although it would be nice.
"I think his stock is growing all the time. The more games he plays, the more goals he scores, the more he'll be worth. He's a huge talent.
"I would leave [the valuation and negotiations] to the chairman and Dario.
"We've got more than him. We've got others coming through. Max Clayton came on late in the game and we've got high hopes for him as well."