Euro 2012: Dutch masters say substance must come before style
Last updated on .From the section Euro 2012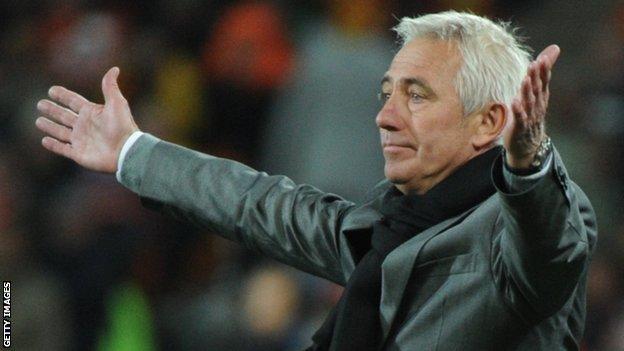 There was something different about the Netherlands at the 2010 World Cup.
On their way to losing to Spain in the final, Bert van Marwijk's side put pragmatism ahead of pizzazz. They were less dynamic, less dazzling, less - well, just less Dutch.
Depending on your outlook, that either saw them throw four decades of traditional flamboyance and flair out of the window or, alternatively, belatedly wake up to what it takes to go the distance in a modern-day major tournament.
And, despite the Dutch adopting an attacking, pro-active approach to get to Poland and Ukraine, this summer they are more likely to play the way they did in South Africa than during the swashbuckling 1970s.
Exactly what has changed for the Oranje? As Van Marwijk's right-hand man at the World Cup, Frank de Boer knows better than anyone that it went far further than a tweak to their playing style.
"We altered that a little bit but really it was our mentality that changed," De Boer told BBC Sport of his side's run to the final, "We wanted to get into the heads of the players that we have got a mission and the mission has to be to win the cup, not to play good football.
"That is something we also wanted but the priority was to get results and win the cup, something we were not thinking when I played in the 1998 World Cup.
"Back then we had the mentality of 'OK, let's see how far we go with our style of playing and then we will see about winning the tournament'.
"We lost to Brazil in the semi-final, and reaching the final four was enough for us then.
"Maybe if we had been thinking only about winning the cup, we would have gone as far as we did two years ago, or even one better."
It may not please the purists, but getting their hands on the trophy is again the only aim as the Netherlands prepare for Euro 2012.
"They want the title," says De Boer, who left the national set-up 18 months ago to take charge of Ajax. "It will be difficult but they have the qualities they need to do it."
But it will not quite be a case of 'win at all costs' for the Dutch this time. That was the accusation levelled at them for their overly-physical approach in the World Cup final, perhaps best illustrated by Nigel de Jong's chest-high kung-fu kick tackle on Xabi Alonso.
De Boer admits his old side got things wrong on that night in Johannesburg but says they did not set out to be dirty, and is certain there will be no repeat of those scenes this summer.
"We have never played the way we played in the final before or since," the 42-year-old former Barcelona defender explained. "I think it was a one-off and we did not do ourselves justice.
"Maybe we were too nervous. I think only one or two players played how they can play so that's why we were one or two steps too late every time."
That display hurt the Dutch almost as much as the defeat did, because the Oranje have a reputation not just for playing pretty football, but for being precious about it too.
And, although their side has evolved in the last two years, in Poland and Ukraine they will have the same coach, more or less the same players, the same 4-2-3-1 formation and possibly very similar tactics.
They were prolific in qualification for Euro 2012, winning their first nine matches and scoring 37 goals in their 10 games, but 25 of those came in four matches against San Marino and Hungary and they are unlikely to adopt anything like as open an approach in Group B against Germany, Portugal and Denmark.
Does that matter?
Yes, to some members of the Dutch press.
They berated Van Marwijk at Wembley after he used Nigel de Jong as a second holding midfielder in February's friendly win over England, instead of picking the more creative Rafael van der Vaart or Kevin Strootman, who had been utilised in that position against easier opposition in qualifying.
But it is not such an issue for the Dutch public, who seem to have bought into a new philosophy where the emphasis is on getting results, not playing with a swagger. Crucially, so have their players.
Dutch journalist Jeroen Kapteijns of the De Telegraaf newspaper explained: "There has been some criticism that the way we are playing is not adventurous enough but it is not true that it is a national discussion. That's not the situation.
"Some people say Van Marwijk is neglecting some of the best elements of the Dutch style, but the results are in favour of his approach, and the Dutch people are very proud of those results.
"The players are very happy with the way the team is playing too. You cannot say it is only defensive football - yes it is a change in philosophy but there are still a lot of possibilities for attacking players like Wesley Sneijder, Arjen Robben and Robin van Persie."
Even the stars of the great Dutch sides of the 1970s and 1980s agree that Van Marwijk's methods are the best way forward.
Arnold Muhren, the former Manchester United midfielder who played an integral part in Holland's 1988 European Championship triumph, says the days of all-out attacking football are gone.
"You can't leave your door open at the back, because the top teams punish you then," Muhren told BBC Sport. "If you try to play attacking football all the time against these sides then it can sometimes pay dividends, but you cannot do it for 90 minutes.
"Spain have their way of playing, so do Germany - and so do we. I cannot see us changing a lot now."
And Ruud Krol, a key member of the Dutch 'Total Football' side that revolutionised the game in the 1970s, also says Van Marwijk is right to stick to his guns.
Krol told BBC Sport: "Maybe they are not so spectacular as before but they are successful and that is the most important thing.
"You have to play with the qualities you have - we have good wingers so we play to our strengths, and we are doing that whether we play 4-3-3 or 4-2-3-1.
"Should we play with more flair? I think in football the winner always gets it right.
"We did very well in qualification and before that in the World Cup so there is no need to change the system. What matters more is who is going to play in it."
The biggest decision for Van Marwijk on that front appears to be whether to use prolific Schalke striker Klass-Jan Huntelaar as his attacking spearhead, and in doing so shift Van Persie out to the right wing.
He has other worries too. Before Wednesday's win over Slovakia, that Wembley victory was the only one the Dutch had managed in five friendly outings. They lost three of those matches, including against Bulgaria last weekend, but their most worrying setback came when they were outplayed by Germany last November.
A cause for concern? Not for De Boer. The Dutch went into the 2010 World Cup on the back of a long unbeaten run but he thinks losing games will refocus the squad on the task ahead, and remind them exactly how they need to tackle it.
"It is good that they know what it means to lose," he added. "It will make them realise more that we have to do the same as we did before."