Football Association vote in favour of youth football changes

By Dan Roan
BBC sports news correspondent
Last updated on .From the section Football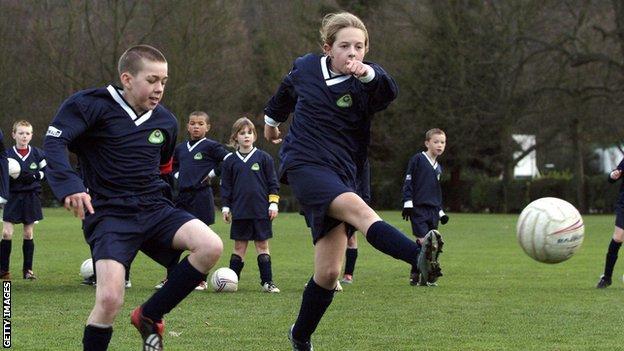 The Football Association has voted in favour of making small-sided formats for certain age-groups mandatory.
Proposals including smaller sided games on smaller pitches and smaller goals were voted in by an 87% majority.
In England, some children as young as 10 currently play on full-size pitches.
"These changes are a massive step forward for the future of children's football in this country," said national development manager Nick Levett.
"After 138 roadshows nationwide it was fantastic to get the endorsement of the majority of the grassroots football community."
While some youngsters already play small-sided games the new pathway now includes a mandatory 5v5 format of football for under-7s and under-8s and a 9v9 format for under-11 and under-12s to be phased in by season 2014-15.
Before the vote the FA's Head of Elite Development Gareth Southgate made a speech in favour of the proposals which FA insiders say was key.
The changes are designed to emulate the emphasis on technique and skill in countries such as Spain where children are only allowed to play on adult pitches from under-14 level.
"These changes are desperately needed to support the future development of youth football," said Levett.
"We need to ensure children play on pitches appropriate to them, a 10-year-old is not half a 20-year-old!
"We also need an approach to competition that makes the game more competitive for more children."
Manchester United and England defender Rio Ferdinand got involved in the debate on Twitter.
He tweeted: "One thing our kids coaches don't do that foreign coaches do is teach them to pass the ball to a player under pressure...then coach one-two.
"How to protect the ball under pressure..foreign players do that much better than us...one reason why they keep possession better.
"FA coaching courses need a right old shake up in my humble opinion if we are to move forward...some real good bits but some ancient bits too."
The FA needed 75% of the votes cast for the reforms to be approved.
An FA statement said: "Introducing 5v5 for under-7s and under-8s, with progression to 7v7 and then 9v9, allows the children to play on appropriate size pitches and with appropriate size goals.
"The smaller pitch and number of players allows greater number of touches of the ball and involvement in the game, helping develop greater technical skills at a lower age."