Euro 2012: Andriy Shevchenko says nothing to fear in Ukraine
Last updated on .From the section Euro 2012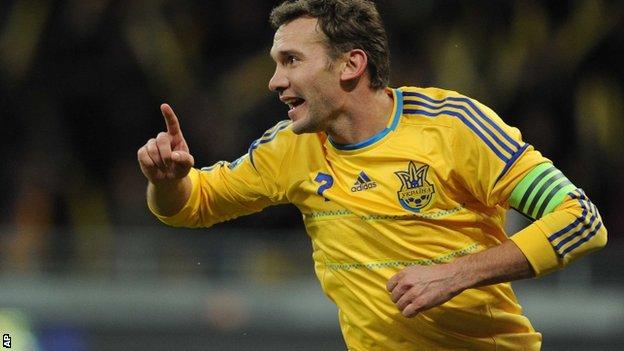 Panorama's Euro 2012: Stadiums of Hate will be shown on BBC One on Monday 28 May at 20:30 BST and will then be available in the UK on the
BBC iPlayer.
Former Chelsea striker Andriy Shevchenko says there is "no real problem" with racism in Ukraine and fans have nothing to fear at Euro 2012.
But Ukraine international Shevchenko, 35, told the BBC in April: "We don't have a real problem here about racism.
"The country's very quiet and people are very friendly."
Theo Walcott's family have revealed they will not be travelling to the tournament because of their concerns about racism.
And Campbell believes Uefa should not have chosen the countries as hosts of such a prestigious event in the first place.
"I think that they were wrong, because what they should say is that 'if you want this tournament, you sort your problems out'," said the former Arsenal and Tottenham player.
"Until we see a massive improvement... you do not deserve these prestigious tournaments in your country.'"
But Shevchenko, who won the FA Cup and League Cup with the Blues between 2006-2009, said he expected Euro 2012 to pass without incident, although he had not seen the Panorama footage when the BBC spoke to him.
"I know the country did everything to make this competition very good," he added - before Campbell's comments on Panorama.
"I know how much work the country tried to do: airports, in streets, stadium in the last five years.
"We never have heard problems about racism."
Former Arsenal player Oleg Luzhny, who played 52 times for Ukraine, also played down fears of racism at Euro 2012.
"No, no, no, I never heard about this. We have Nigerian players…and I never heard about racism," said Luzhny.
The full interviews will be broadcast on 6 June.