Matt Phillips backs Scotland to recover from US defeat
Last updated on .From the section Football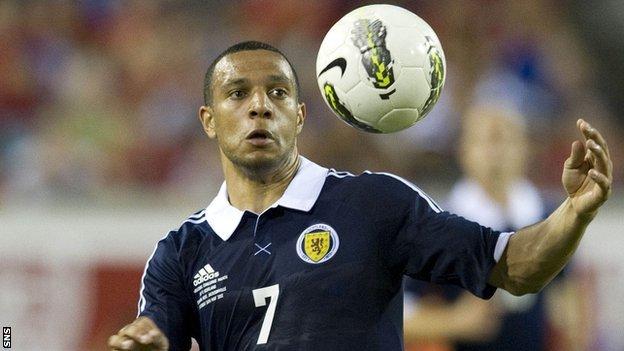 Scotland winger Matt Phillips insists Craig Levein's side can "move on" from their 5-1 defeat by the United States.
Phillips made his international debut in Florida.
"The guys were all very disappointed in the dressing room but it's done now," said Phillips. "We have got to look forward to the next game.
"When you lose 5-1, you are never going to be happy. But whatever positives there were, we will take them out of the game and move on."
Landon Donovan fired a hat-trick as the American romped to victory, making it a tough 90 minutes for Phillips.
"I'm delighted to have made my debut," said Blackpool's Phillips. "It was a tough game but there is more to come."
"This is football and there are only three things that can happen - you could win, you could draw or you could lose.
"This time, we lost. It's not something they have never experienced before. Losing five goals is disappointing, no more than that.
"The USA are very well organised, their work ethic was extremely good and their finishing was clinical. All credit to the USA."
James McArthur described the Scots' performance as "one of our off nights".
"I don't really know where it went wrong to be honest," added the Wigan midfielder. "It's disappointing. All the lads are gutted.
"We can have no complaints really. We just didn't perform well enough and it's all down to the players.
"We need to learn from the experience. The best teams in the world get beat. They learn from it and it makes them stronger so hopefully we can do that."