Rangers' administrators upbeat over CVA proposal
Last updated on .From the section Football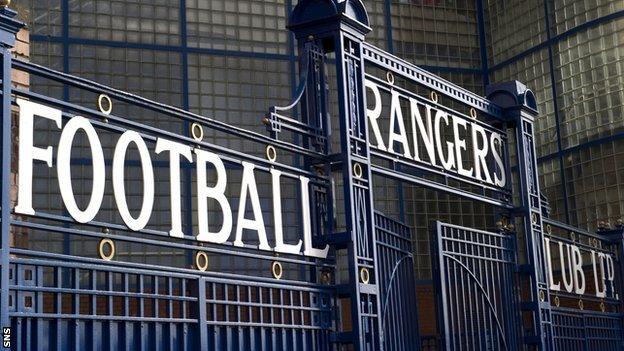 Rangers' administrators have told BBC Scotland they are still unable to reveal details of their company voluntary arrangement proposal.
However, joint administrator Paul Clark says he is optimistic the two biggest creditors will agree to the CVA being sent out on Tuesday.
"We very much hope it will be accepted," Clark told BBC Scotland.
HMRC and the finance firm Ticketus are owed a total of £41.1m, although the Ibrox club's tax liabilities could rise to £93.4m should the club fail to win its appeal against the so-called "Big Tax Case" at the Court of Session in Edinburgh.
However, if agreement cannot be reached among creditors owed 75% of the debt, it is likely Green's consortium would attempt to relaunch the club by transferring its assets to a new company.
Green's offer pledged £8.5m with another £3.5m coming from transfer fees due to the club. Legal claims against majority shareholder Craig Whyte's lawyers could provide further funds.
with much of the unconfirmed difference related to an ongoing tax tribunal.
That tribunal and a separate Scottish Premier League investigation concern how Rangers paid their players over a decade-long period.
BBC Scotland has learned Ticketus, the firm whose cash advance was used to fund Whyte's takeover of Rangers last year, have received notice of the CVA proposal.
"A formal notice of the CVA meetings will be sent to all creditors and shareholders of the club tomorrow [Tuesday] providing further details of the CVA process," added Clark.
"Details of the CVA proposal have been finalised today and there has been additional consultation with certain stakeholders. We had hoped the results of this consultation would have enabled us to publish the proposal today but administrative alterations mean the document will be published tomorrow.
"Rangers supporters should be reassured the CVA process is on track. The creditors' meeting to consider, and hopefully approve, the CVA will be held on Thursday 14 June."
Should the CVA be approved at the creditors meeting, a 28-day cooling-off period would ensue before Rangers could come out of administration.
Players and management agreed wage cuts in March to allow Rangers to fulfil their remaining season 2011/12 fixtures but contracts revert to full pay in June with additional clauses allowing players to leave for reduced fees.
Meanwhile, the SPL has granted Rangers "a period of grace" after the club missed the deadline for filing financial documents.
The Ibrox club have until Friday 15 June to provide documentation to the league or they could face sanctions.
"The matter will be reviewed further at that time," said an SPL spokesperson.
Rangers, who suffered their insolvency event in February, missed the March deadline for submitting accounts to Uefa, meaning they will not play European football next season.
And the financial documents sought by the SPL are required for participation in next season's top flight.