Outspoken Diouf questions Senegalese talent
Last updated on .From the section Football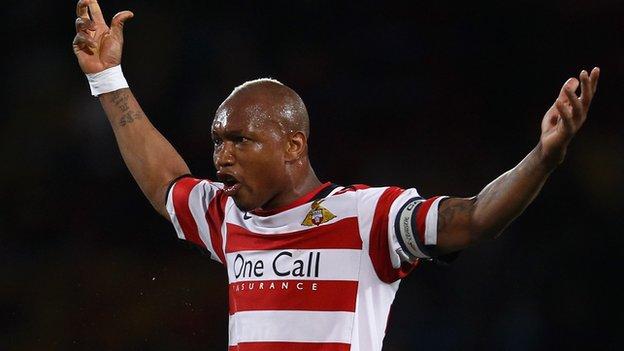 Former Senegal captain El Hadji Diouf has called on the current crop of Teranga Lions to put national pride ahead of personal ambition.
Senegal were huge disappointments at this year's Africa Cup of Nations, losing every game despite entering the tournament as one of the favourites.
"The players have to come down to the real world and know that they have done nothing in this life," said Diouf, 31.
"They must work hard and do everything to make people proud of them."
The Doncaster Rovers player, who was once an integral member of the Teranga Lions, is currently one year into a five-year ban from all football-related activities in Senegal.
He was handed the ban by the Senegalese Football Federation (FSF) after remarks he made in the media about corruption in African football.
Senegal begin their 2014 World Cup qualifying campaign this weekend, as they contest their opening Group J tie at home to Liberia on Saturday.
Uganda and Angola are the other teams that the Senegalese must overcome if they are to have a chance of contesting Africa's third and final round of qualifying next year.
Senegal reached the quarter-finals at their maiden World Cup appearance, during the 2002 finals in Asia, but have failed to compete at the tournament since.
Diouf, who was instrumental in the side's run to the last eight and later named in Fifa's team of the tournament, says this is because the country's talent is not as strong as it was.
This is despite the high-profile displays from Newcastle United duo Demba Ba and Papiss Demba Cisse, who shared 29 goals in 48 Premier League games last season.
"Senegal doesn't have the players we used to because in 2002, we had brilliant players," Diouf, a two-time African Footballer of the Year, told BBC Sport.
"But today, everyone wants to be a big star - but to be a big star, they have to make their fingerprint and they are not.
"You can score a lot of goals in Europe for your club, but what they do for their club I used to do for the national team.
"That is what I say to the players - they talk too much to the media - it's not about talking, it's about doing it on the pitch."
Since 2002, a year when Senegal reached the Nations Cup final and the World Cup quarter-finals, the country's football has been in decline.
The nadir came in October 2008 when team failed to reach the final round of qualifying for both the 2010 Nations Cup and World Cup.
This followed on from a first-round exit at the 2008 Nations Cup when Diouf was among a handful of players reprimanded for visiting a nightclub 48 hours before a match.
Senegal are currently being led by former Olympic coach Joseph Koto, who took charge at short notice after Frenchman Pierre Lechantre decided against taking the vacant Teranga Lions post.
Nations Cup coach Amara Traore, an unused member of Senegal's 2002 World Cup squad, was dismissed after this year's finals following defeats to Equatorial Guinea, Zambia and Libya.