Plymouth Argyle boss Carl Fletcher gets 'competitive' budget
Last updated on .From the section Football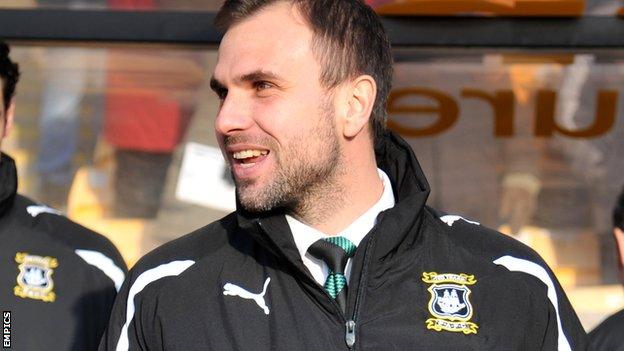 Plymouth Argyle owner James Brent says the budget handed to boss Carl Fletcher will allow him to put together a "very competitive" League Two side.
Earlier this week Brent re-signed Fletcher and his team for next season after they kept the club in the league.
"We're very confident the budget the board has set is sufficient to create a very competitive team," Brent said.
"That's not just a sound bite, that's in terms of what other teams are doing in terms of their budgets," Brent added to BBC Radio Devon.
But Brent says he has not set Fletcher an ultimatum of getting the club out of League Two next season.
"We're not saying to Carl and his colleagues 'this is a promotion budget and they need to guarantee promotion'.
"What we're saying is that this is a good budget and we want them to progress with the team and do the very best we can and we keep our fingers crossed that that might involve promotion.
"We've had discussions with them in terms of where we'd like to see the club go both in terms of the positioning within the league, the ambition for promotion and the quality of football.
"But how Carl, Ro (assistant manager Romain Larrieu) and Nance (coach Ian Nancekivell) get there is of their own doing."
Brent says all he is only concerned with is that the club improve and that they invest in younger players.
"The focus now is on winning, but what we also want the management team to do is to develop our young players and not just to buy success.
"We're desperately keen for promotion next year and we'll support the team in striving to achieve it.
"But I think if the team fail to achieve promotion next year we're hardly going to sack them if they've performed well."