Man City: Ex-chief executive Garry Cook felt he 'embarrassed' fans
Last updated on .From the section Football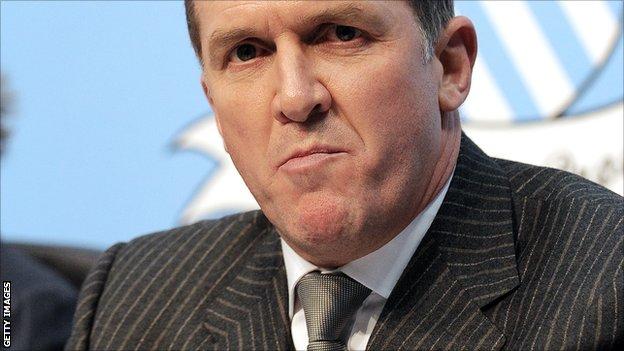 Former Manchester City chief executive Garry Cook has revealed he felt he "embarrassed the fans" with mistakes he made while working at the club.
He told BBC Radio Manchester: "There are no excuses. There are my interpretations and there are the interpretations of the press.
"The thing I always felt when those interpretations were manifested was the embarrassment I'd caused the fans."
Cook resigned in September 2011 after more than three years in the role.
His departure came following accusations that he sent an email to then-City defender Nedum Onouha's cancer-suffering mother mocking her illness.
Cook denied sending the email, claiming his account was hacked, but chose to resign after an internal investigation.
"In the end, I really felt that I didn't want to continue being the scapegoat of Manchester City and the point of attack," he said.
"I am who I am but I was getting more and more concerned that it was becoming more about me than it was about the football club and the fans.
"That's not fair to them, it's their club and they deserve better than that."
Cook is credited with brokering the Abu Dhabi United Group's takeover soon after his appointment as chief executive in 2008, a deal which has transformed Manchester City into Premier League champions in the space of four seasons.
"We built a prospectus to sell the club," he continued. "They were interested in other football clubs and we had to sell the idea that Manchester City was a good investment.
"They liked the vision and we started to meet the key stakeholders. We then realised that we'd got it right and we knew that we were going to make a big, bold statement in the world of sport, not just football.
"It was about getting someone who cared for the football club. They are passionate about it, they want to win and they're ambitious. They knew how passionate the fans were about the club - there was nothing plastic about this.
"I am proud of what I've done, but it's not me alone. What I feel I managed to do was build a team of people who believed and could see the vision.
"I'm not responsible for what happened at Manchester City. I only played my part and I was very fortunate to be given that opportunity."
But along with the success and City's progression on the field, there were also "a catalogue of four of five incidents" that Cook believes "will be his nemesis that he will carry forever".
He inadvertently inducted former City striker Uwe Rosler into the "Manchester United Hall of Fame" at a special ceremony, and accused AC Milan of "bottling" a deal that would have seen Brazil international Kaka complete a world-record transfer to Eastlands.
"I was angry at AC Milan for the way they treated the football club with regards to Kaka," Cook added. "In retrospect, it was disrespectful to make public statements the way I did and I obviously regret that.
"Making a mistake with Uwe Rosler, my biggest concern was if I had dishonoured Uwe Rosler or the supporters' club.
"I deeply regret making a mistake. But I'm also a great believer that if you're not making mistakes, you're not trying hard enough."
Hear Ian Cheeseman's full interview with Garry Cook on BBC Radio Manchester's "In The Spotlight" from 18:00 BST on Thursday, 7 June