Matt Bloomfield column: Contract decisions and graduating

By Matt Bloomfield
Wycombe Wanderers midfielder
Last updated on .From the section Football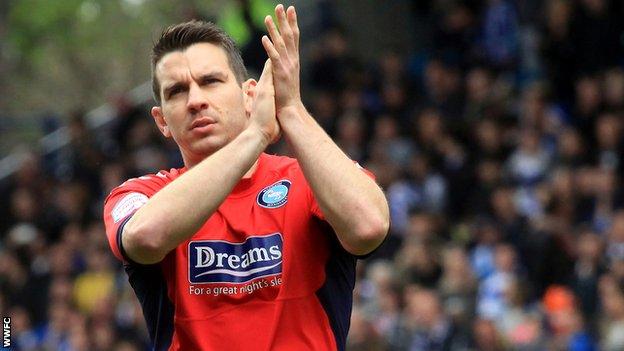 The season is over for another year. Congratulations to Charlton, Sheffield Wednesday and Huddersfield and good luck to them in the Championship next season.
I certainly wouldn't be surprised if any of the three clubs strengthened in the summer and were challenging in the top half of the table next season.
We have seen in the last couple of seasons with Norwich and Southampton that it's possible.
The atmosphere at Hillsborough on the final day was quite something. I'm sure the roof nearly came off the stadium at one point. You could feel the history of the place.
As a professional it made me want to taste atmospheres like that more often. It was obviously ironic that both Steel City clubs were battling for the final automatic promotion spot on the last day of the season.
As for my own future I have been offered a contract to stay at Wycombe for a further year.
Eight and a half years is a long time in football and I have loved my association with Wycombe. It definitely means more to play for a club the longer you are there. No doubt about it.
I think that is maybe why I took relegation so hard this year.
I have had a lot of good talks with the manager and the club, and they understand my position. My heart is with the club and at 28 it is important that I do what is right for my career and for my future.
Even though it's been such a tough season to take, I have actually really enjoyed myself out on the pitch at times.
I think that it's the fittest and the sharpest that I have felt since I had my anterior cruciate ligament reconstruction four years ago.
The extra early morning sessions certainly paid off and it just proves that you never stop learning what is best for your body and what preparation your body needs to perform the best you can on a Saturday afternoon.
I submitted my last piece of work last week for my degree, so all being well that is all my work finished.
It feels a bit weird and the two years have certainly flown by. All this talk of a graduation sounds a bit strange.
I have really enjoyed it and I'm now considering what to do next. My coaching badges will be a priority but I'm also considering carrying on my academic studies as well.
I have also been spending some time with Chris Osborne, a journalist for the BBC Sport website and this will be my last column for the site.
The chance to get my thoughts out is something I've really enjoyed and I feel privileged to have had the opportunity.
Journalism is definitely something I want to continue to pursue and I will look to carry on a column or something similar somewhere next season. I want to widen my experience on the broadcasting side as well.
Thanks for reading throughout the season, I hope you have enjoyed it as much as I have writing it.