Nick Powell: Deal must be right, says Crewe chairman Bowler
Last updated on .From the section Football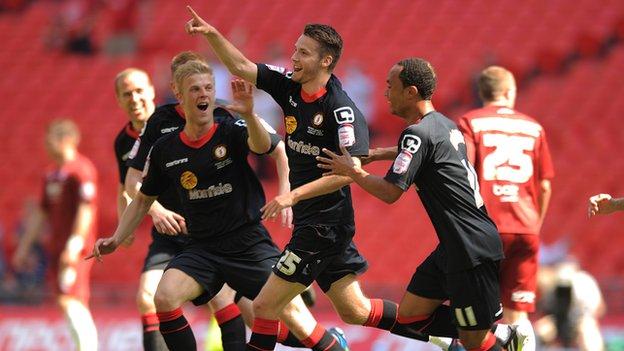 Crewe Alexandra chairman John Bowler insists that any prospective deal for prize asset Nick Powell must be right both for the player and the club.
Crewe are resigned to losing Powell, whose stunning Wembley strike in Sunday's League Two play-off final win over Cheltenham has enhanced his value.
"We have to gauge what's right for us in terms of value but also what is right for the player," said Bowler.
"We've always acknowledged there's a time when it's right for him to move."
But Bowler added: "That will be a conversation between us and his family and with Nick.
"And we'll do all in our power not to let him to go to a club unless it's one that can take him on and make the most of his career. Dario Gradi is adamant about that."
"We have a hell of an investment in the lad, not just the money, but the time and effort and all that's gone with it.
"For him to do like Danny Murphy did and play Premier League at the very top level, that would say a hell of a lot for Crewe and our academy.
"That's a big attraction to get talented youngsters to come to us in the future."
The work that has been put in helping the Alex develop at academy level under Gradi, their long-serving legend of a manager is well chronicled.
And now Gradi has at last successfully passed on the first-team baton to Steve Davis to concentrate solely on rearing future talent, Bowler admits that where Powell ends up next () can be a massive selling tool to attracting more exciting youngsters to the Cheshire Plain.
"We have to show them that they're not missing out by going to bigger Academies than ours," added Bowler.
"Some of these lads might be playing Premier League football before some who chose not to stay with us."
Apart from 18-year-old Powell and 17-year-old , who has also caught the eye, Crewe's Wembley side had an average age of 22. And nine of the starting line-up had come through the academy.
"As a group, this lot are as good as we've ever had and I think Dario would agree.
"It's a credit to everyone in the academy and that's what we're going to carry on investing heavily in.
"It's more expensive to compete in League One and League Two. And we're now planning in the next week or two how to balance it.
"There has been an enormous reaction from the fans. There were 14,000 of them at Wembley. And it would be nice if they were all back here to buy season tickets."
Powell's imminent sale should emulate the big-money departures of previous star turns like David Platt, Craig Hignett, Neil Lennon, Danny Murphy, Seth Johnson and Dean Ashton, by balancing the books and protecting the club's finances in the medium term.
But Bowler also recognises the importance of the ones that are left behind, like Clayton, midfielder Luke Murphy, striker AJ Leitch-Smith and manager's son Harry Davis, who now have the chance to kick on in League One.
"The biggest thing about winning promotion is that it means a bigger stage for our youngsters to play on," said Bowler.
"We had nine of them in the starting line-up at Wembley.
"They now need to go and develop and they'll do that better in League One than in League Two, with bigger clubs to play and bigger stadiums to play in."