Mario Balotelli will walk off if abused at Euro 2012
Last updated on .From the section Euro 2012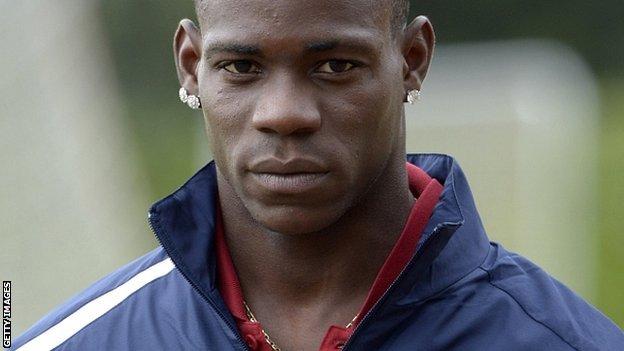 Manchester City and Italy striker Mario Balotelli has threatened to walk off the pitch if he is racially abused at Euro 2012, which kicks off next week.
Balotelli added he would "kill" anyone who dared throw a banana at him in the street.
A recent BBC Panorama programme revealed cases of racism and anti-Semitism in football grounds in host nations Poland and Ukraine.
"If [racism] does happen I would leave the pitch and go home," said Balotelli.
"Racism is unacceptable to me, I cannot bear it. We are in 2012, it can't happen.
"If someone throws a banana at me in the street, I will go to prison because I will kill him."
The Panorama programme showed fans making Nazi salutes on the terraces, black players being taunted with monkey chants and a vicious assault on a group of Asian students.
Former England captain Sol Campbell advised fans not to travel, suggesting they would be risking their lives if they did so.
Ukraine's Euro 2012 director Markian Lubkivsky said Campbell's remarks were "insolent".
Former Inter Milan striker Balotelli, 21, was regularly the target of racist abuse when playing in Italy.
In an interview with France Football, Balotelli also said he believes he is a genius.
"I think I am a genius, but not a rebel," he said. "I have my life, my world. I do what I want, without annoying anyone.
"I believe I am more intelligent than the average person.
"The talent God gave me is beautiful and wonderful, but it is difficult because you are always facing other people keen to judge you.
"There are few people with such talent, so there are few able to judge what I am doing."