Euro 2012: Kevin Foley feels betrayed by Giovanni Trapattoni
Last updated on .From the section Euro 2012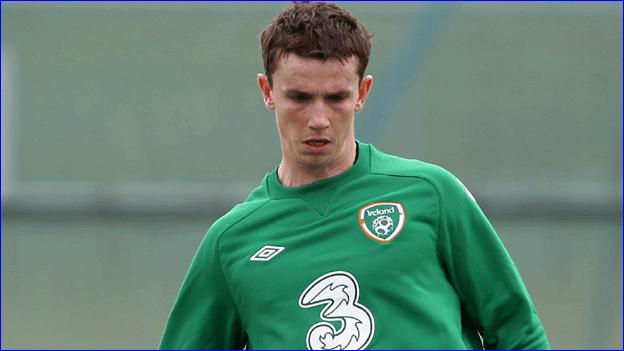 Kevin Foley says he feels "betrayed" by Giovanni Trapattoni's decision to leave him out of the Republic of Ireland squad for Euro 2012.
The 27-year-old defender was stunned on Tuesday after manager Trapattoni dropped him from the 23 despite naming him in the squad three weeks ago.
"It is hard to take. I don't want to go into too much detail. I just feel betrayed," said the Wolves defender.
Trapattoni included Paul McShane in his squad instead of Foley.
McShane had been on stand-by before being drafted into the party as defensive cover last week.
Wolves full-back Foley spent the last week or so working his way back to fitness after a hamstring problem but he insisted that he is now fully fit and played in Tuesday's 5-0 friendly win over a Tuscan Select team.
However, Trapattoni decided that injury concerns over John O'Shea and Darren O'Dea made McShane a better option as he can play at both right-back and in central defence.
"I wanted to prove a point, that I was fit to play because from what I understood, I could have trained last week, Thursday, Friday and been involved in the game [against Bosnia on Saturday]," said Foley.
"He [Trapattoni] said there was no rush and we will wait to train in Italy, so I trained for two days in Italy and felt great.
"And then all of a sudden, he pulls me this morning [Tuesday] just before the end and says, 'You are not in the squad', and that is hard to take.
"I have done everything I can. That is all I can do. Words can't really describe it. It was tough.
"The lads have been great, but what happened happened, there's nothing I can do about it now.
"I hope the lads go on and do as well as they can from the tournament."
Trapattoni said after Tuesday's friendly that the decision to exclude Foley had been an intensely difficult one.
The Republic boss invited the player to remain with the squad, which heads for Hungary on Sunday and then Poland two days later but Foley has declined the offer.
"I go home tomorrow. I don't want to talk about that."