Plymouth Argyle owner hopes to emulate Swansea and Norwich
Last updated on .From the section Football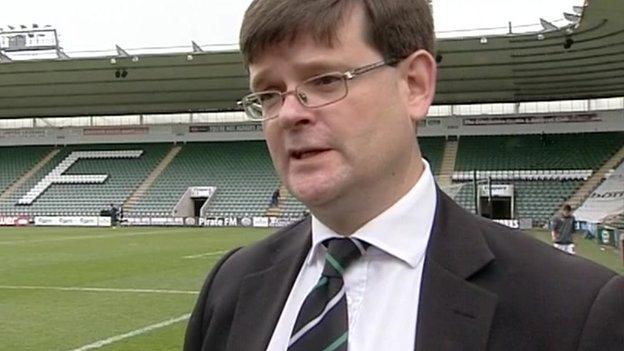 Plymouth Argyle owner James Brent says he wants the club to emulate the likes of Swansea City and Norwich City.
"There are a host of clubs with small fan bases that have bought success.
"But other clubs have had success that is built sustainably over time such as Norwich and Swansea," Brent said.
According to the 2001 census, Plymouth had a population which was more than 70,000 greater than Swansea or Norwich, and all three cities could be considered geographically similar in that they are situated in the extremities of the UK.
But while Swansea and Norwich have both seen themselves rise from the lower leagues to the Premier League in the past decade, Plymouth have gone in the opposite direction, finishing just above the relegation zone in League Two last season.
"They have very loyal fan-bases and are fairly sustainable, our catchment area is as good as theirs, as is the inherent loyalty to the club," he told BBC Sport.
"They've got it right and Argyle have not - if you look at where Swansea were 10 years and ago and where they are now it's very exciting for everyone, but they've not achieved that by being reckless or being short-termist.
"With the new grandstand we'll have the ability and the capacity to support an improving league position and an increasing fan-base."
Brent says one of his main aims off the pitch is to improve the experience that fans have at Home Park.
As well as plans to redevelop the main stand, he also wants to encourage more people back to Home Park.
Crowds for Argyle's home matches have almost halved in five years, from an average of 13,000 in the 2007-08 season, when the club played in the Championship, to just 6,915 last season as the club battled against relegation from League Two.
Capacity at Home Park has been reduced as the lower part of the Mayflower Stand, which the club wants to redevelop, has had seating removed, but Brent says the club must do more to make supporters' match-day experience better.
"I'm still unhappy with the match-day experience, but it's improved since I took over and it will improve next season," Brent said.
"What we would like is for Plymouth to be the sporting, leisure and cultural centre for the South West and part of the plans are having a well-run stadium with a well-run team."