Montecatini welcomes Trap's Irish troops

By Thomas Niblock
BBC Sport NI
Last updated on .From the section Euro 2012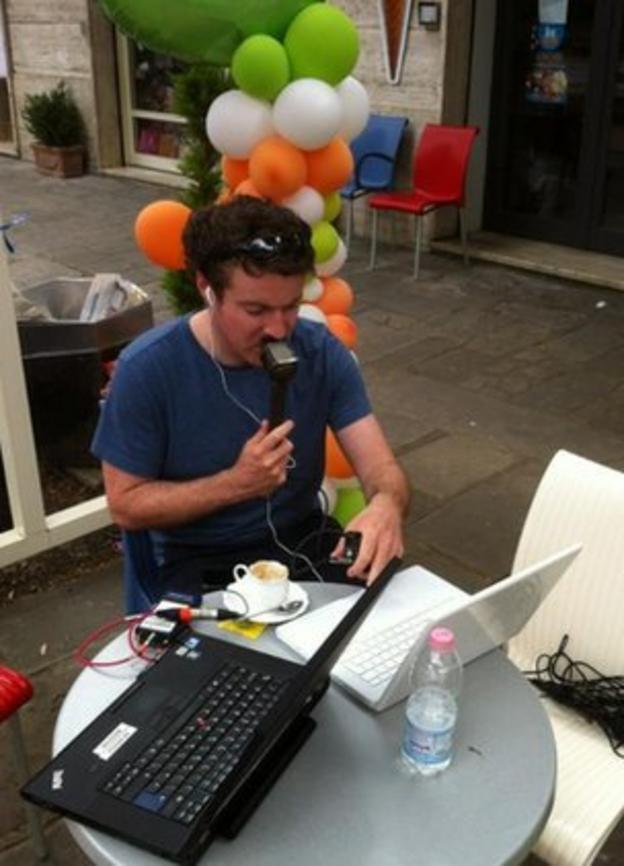 So we've arrived. Tuscany. Beautiful.
Mr Trapattoni as he's known in Italy first visited Montecatini with AC Milan in 1958.
He said it was a special place - he's not wrong.
The town has welcomed the Republic of Ireland with open arms, green shops, green flags, green everything - you get my drift. A week-long festival 'Irish week' is now in full swing.
Weather is nice, but not quite as splendid as it is back home [incredible but true]. The hotel is basic, clean, and a bed- it's all I need.
Considering the conditions some supporters will be staying in over the next few weeks I count myself extremely fortunate.
French philosopher René Descartes once said: "Travelling is almost like talking with men of other centuries."
Well my hotel internet is certainly from a different era [yeah I'm beginning to sound like Joey Barton on Twitter]
But they say every cloud has a silver lining and the Irish broadcasters, writers and cameramen have found one. It's called Desideri.
It's an ice cream cafe - but more importantly has a decent speed internet service.
Crucial to get our television pieces back to Belfast on time. Three days gone, five ice creams, four cappuccinos, four pounds gained!
The players train daily at the local stadium. It is fine, so far, no Saipan - well not for Ireland anyway.
Day 1
"This situation has humiliated Italian football, humiliated us, me particularly."
Giovanni Trapattoni isn't talking about the training facilities but instead the match-fixing saga that took a dramatic new turn on Monday morning.
Players arrested, 30 homes searched, including Juventus manager Antonio Conte [surely there are easier ways to rule yourself out of the Anfield running].
However most serious is Domenico Criscito, first choice left back for the Italy team who has withdrawn from the Azzuri 2012 squad in a bid to clear his name.
He's a solid talent. Surely things couldn't get any worse for Italy?
Day 2
It becomes worse. I wake up confusing my bed for a boat. At 9:03 local time an earthquake hits Northern Italy, I along with the team are about 140 km away.
Players all fine, Stephen Ward and Richard Dunne slept right through it, so too did my cameraman Davy McIlveen.
But with so many fatalities, sport once again is put in perspective. Italy call off their friendly with Luxembourg. It was the right thing to do.
And that night followed one of my most pleasant evenings ever. Montecatini in all its glory, I spent the evening with Miss Italy [and the Republic of Ireland team].
I wanted my photo taken with Stefania, but Sean St Ledger got their first and she wanted one taken with Trap.
Trap is an icon but it didn't hit me until I arrived in Italy just how popular he is.
Our lovely hotel receptionist said "Berlusconi could only dream of being as popular as Mr Trapattoni".
You have to be very special in Italy to be called 'Mr', Berlusconi is Berlusconi, Trapattoni is Mr Trapattoni.
However, he is ruthless.
Dropping Kevin Foley and replacing him with Paul McShane was a massive call. Sentiment is out the window when a job has to be completed.
"We have to believe we can do a job, and we do believe we can qualify out of our group, otherwise there's no point in being here," said Richard Dunne after the 5-0 thrashing of a Tuscan select on Tuesday night.
If the players believe, and the manager believes, maybe the fans will believe too.
[Follow Thomas Niblock on Twitter for the very latest from The Republic of Ireland camp @thomasniblock]