Euro 2012: Andriy Shevchenko ready for final fling
Last updated on .From the section Euro 2012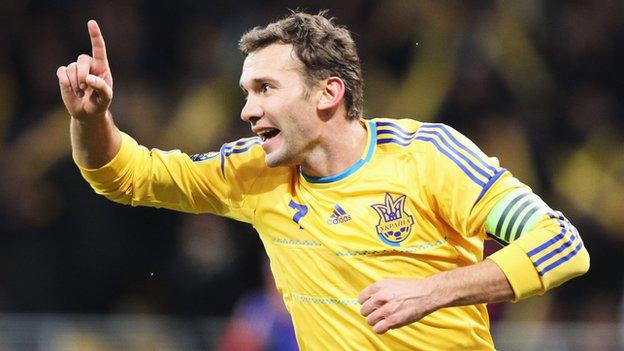 Andriy Shevchenko has already created one of football's most compelling tales.
Now he wants to create a fitting final chapter.
"It would be something impossible, unbelievable, to win Euro 2012," the captain of co-hosts Ukraine tells BBC Sport.
"But it's a dream - something you have to think about, something you have to try for."
Shevchenko explains this sitting in the tactics room at Dynamo Kiev's Koncha-Zaspa training centre, a 1960s complex of austere concrete buildings set in acres of forest on the outskirts of Kiev.
He first came here in 1984 at the age of nine, and it didn't take long for the club's staff to realise they had a gem on their hands.
His former team-mate Oleg Luzhny, who was 17 at the time, remembers watching the prodigy.
"Andriy was fast, a great dribbler, had a good leap and loved scoring goals," the ex-Arsenal defender, who is now a coach at Dynamo, says.
Shevchenko made his first-team debut for Dynamo nine years later, playing alongside another highly rated young striker called Sergei Rebrov.
The duo struck up one of football's greatest partnerships and inspired the club to five straight league titles, as well as reaching the semi-finals of the 1999 Champions League.
Now "Sheva" is back in Kiev again, as he had always planned, after re-joining them in 2009.
Injuries and age mean he lacks the speed and sharpness of old and some fans might barely recognise him as the same player who graced the club 10 years ago, but his place in Dynamo folklore is nevertheless assured.
A huge banner of Shevchenko hangs outside the club's Olympic Stadium and coaches, players and fans talk about him in awed tones.
Rebrov, now Dynamo's assistant manager, says: "When I played with him it was the best time in my life." And he believes his friend can still make an impact at the Euros.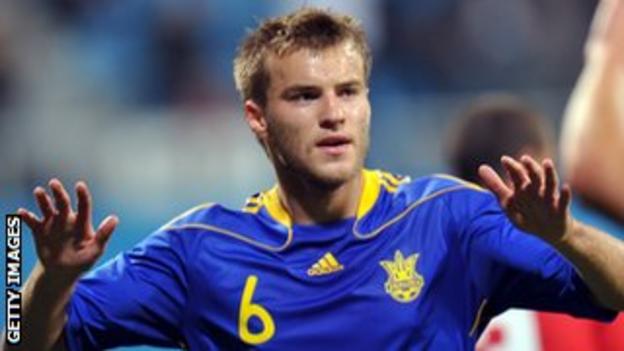 "If he is fit, he is one of the best players in Ukraine, one of the best in Europe, and everything depends on how he feels," adds the 37-year-old.
"I think he is dreaming about it and it gives him so much motivation."
Shevchenko is no longer assured of a place in coach Oleg Blockhin's starting line-up though, and his Dynamo Kiev team-mate Andriy Yarmolenko is now the focal point of Ukraine's attack.
Some describe the 22-year-old as "the new Sheva" and the old master says Yarmolenko is "the future of Ukrainian football".
After narrowly losing the league to Shakhtar Donetsk, Shevchenko focused all his efforts on being as fit as possible for Euro 2012.
"I know I'm not 23 any more, so I have a lot of work to do," says the striker, who has scored 46 goals in 105 matches for his national team.
"This is the most excited I've been in my career, because I have the opportunity to play in the European Championship in my home country."
Ukraine are in Group D, alongside Sweden, England and France, which Rebrov argues is the most difficult group in the tournament.
And he believes co-hosting the competition will prove a double-edged sword for Ukraine.
As they qualified automatically, they did not play any competitive games last year, which Rebrov, who scored 15 goals in 75 internationals between 1992 and 2006, argues "is always very difficult".
"They will have lots of pressure on them," he adds, "but, then again, when the whole stadium supports them, I think they will show their best."
Ukraine face England in Donetsk on 19 June in what could prove a decisive match. It will also give Shevchenko the opportunity to face former Chelsea team-mates John Terry, Frank Lampard and Ashley Cole, players he respects because of how "serious and professional" they are about their football.
Shevchenko says he looks back fondly on his time in England, despite a disappointing record of only nine goals in 48 games in a three-year spell from 2006 to 2009.
He arrived as a recent European Footballer of the Year and with a £30.8m price tag, yet managed to impress only sporadically.
"In my memory, I did everything in the right way," he says. "I never had a continuous good year when I was there. I'd play well for two or three months and then get another injury.
"But I was always professional, tried hard and gave everything on the pitch, which is important for me."
Rebrov had a similarly disappointing time at Tottenham, yet says he is proud to have played in the Premier League. And he jokes that his son has not yet decided whether to support England or Ukraine in the tournament.
If the co-hosts can get through their group, Shevchenko believes it will give his side tremendous momentum.
"If we are good enough to pass the group it will give us confidence, make us stronger and then… you never know," he says.
That would be a fitting finale to one of the great football careers.
* Full interview with Andriy Shevchenko will appear on a Football Focus Euro 2012 Special on BBC1 at 2245 on 6 June.