Leaving Derby for Manchester City bittersweet - Glick
Last updated on .From the section Football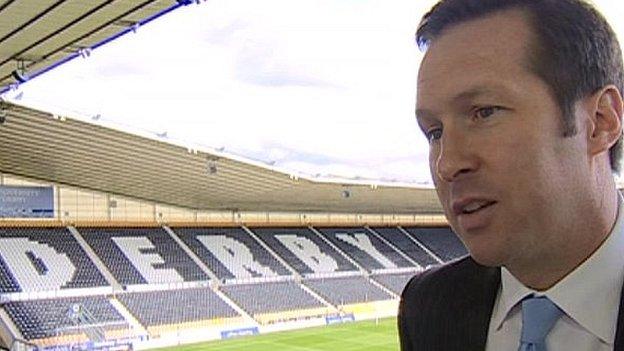 Outgoing Derby County chief executive Tom Glick says quitting the Rams to join Manchester City is a "bittersweet" moment in his career.
The American told BBC Radio Derby: "It is very exciting. It's a chance to be working at the top end of global sport.
"But it's also bittersweet because I know what Derby County are about to do and, not only that, it's been an unbelievably positive journey for me."
Glick said his four-and-a-half-year spell with the Rams had been an "an unbelievably positive experience".
He added: "I will miss living here and will miss being a part of "phase two" where Derby kick on, and I know they will.
"Nigel Clough [Derby manager] has been a terrific partner and I cannot emphasise enough what good hands this club is in with Nigel and his team. We will be a better football team in the year ahead.
"The Adademy is starting to produce in spades and, in addition to the five debutants this season, there will be more to come year.
"I am excited about where that will go and confident that Derby will kick on. Not being here to be part of that is disappointing."
But he is relishing the chance to work with the Premier League champions.
"They have done amazing things this year, and over the last three years, and I am confident they will continue to do great things," Glick said.
"It's a privilege to have the chance to be a part of that."