Impressive Brendan Rodgers ready for challenge at Liverpool
Last updated on .From the section Football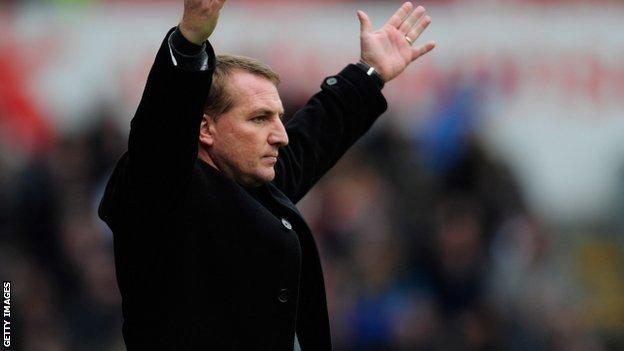 Brendan Rodgers once said he felt he was from "a different bottle" to the majority of British football managers.
Rodgers will officially become Liverpool's fourth manager in two years when he signs a three-year deal in the next 24 hours. It is an appointment that represents a significant step forward in the career of the Northern Irishman but not one he will feel is beyond him.
For the past two seasons Rodgers has been based in a modest office at the Liberty Stadium. Tucked around the corner from the vending machines, it was a room with space only for a desk, two chairs, a computer and a filing cabinet.
But if the office was tiny, the potential of the manager who called it home is anything but.
The task facing him at Anfield is significant. But the bullish self-confidence he has had since his playing career ended at the age of 20 remains as certain as ever.
Growing up in Northern Ireland, Rodgers fell in love with the great Dutch and Brazilian sides of the 1970s that his late father Malachy so admired.
He developed quickly into an impressive, compact defender. A trial with Manchester United in the mid-1980s came and went, but at the age of 16 Rodgers joined Reading. It was at that point he began to realise he did not have the talent to make it at the top level but his playing career was ended by injury without him making an appearance for Reading. He was 20, already married and with a child on the way, but there was no sense of crisis.
He immediately took his coaching qualifications and, at the age of 22, Rodgers was put in charge of Reading's youth academy. He taught children at local schools in the evenings, while taking every opportunity to broaden his knowledge with fact-finding missions to Spain.
He spent time in Spain with Barcelona, Seville, Valencia, as well as in the Netherlands, honing his tactical and organisational methods. Former Barca boss Pep Guardiola is another who inspired him, as he modelled his tactical system on the great Catalan sides.
Soon his ambition and talent was spotted by Steve Clarke, who was on the staff at Chelsea. Clarke recommended him to Mourinho, and Rodgers was invited to head the youth set-up. From there he became reserve team coach. "Mourinho was a big influence," Rodgers said of his time at Chelsea.
"We had a rapport because he saw something in me that was similar to him. Our birthdays are on the same day [January 26] and we both believed in communication, hard work.
"We had a similar philosophy - we believed in the passion for football and the organisation. And he worked at a big club before becoming a manager."
Mourinho was equally effusive about his protege, saying: "I like everything in him. He is ambitious and does not see football very differently from myself. He is open, likes to learn and likes to communicate."
Prizing possession above all else is at the heart of both Rodgers' and Liverpool's values. At Swansea, Rodgers built a side who have impudently dominated possession against their supposed superiors. "If you are better than your opponent with the ball you have a 79% chance of winning the game," Rodgers once observed.
"My template for everything is organisation. With the ball you have to know the movement patterns, the rotation, the fluidity and positioning of the team. When we have the football everybody's a player."
Last season Swansea's passing statistics ranked only behind Manchester City. "Our idea is to pass teams to a standstill so they can no longer come after you," Rodgers explained. "Eventually you wear them down."
Nothing has come easily to Rodgers. Success at Chelsea earned a move to Watford. Then, in the summer of 2009, Reading came calling.
He was sacked before the year was out, unemployed for the first time in 20 years. "I think those adverse situations are the ones that develop your character, tell you if you are right for this kind of life," he said. "It was a hard time. But I was determined not to let what happened at Reading define me as a failure."
It wasn't until July 2010 that he got another job - at Swansea. He hasn't looked back, guiding the Welsh club to the Championship play-off final at Wembley where they beat Reading 4-2 to reach the Premier League for the first time. "As soon as the final whistle went at Wembley after our play-off victory we were the bookies favourites to go down, not deemed to get any more than 10 points," Rodgers said.
The Swans have soared, however. Rodgers leading the club to an 11th-place finish with a group of players that have been rejected by clubs throughout the divisions.
At Liverpool the expectations will be far higher. Despite winning the Carling Cup, Liverpool finished 17 points adrift of a Champions League qualification place last season.
It was consistently poor Premier League form that cost previous boss and Anfield legend Kenny Dalglish his job and owner Fenway Sport Group's desire to reclaim a place among the European elite has never been stronger.
Rodgers must now unite an underperforming squad that has frequently added up to less than the sum of its parts.
But Rodgers wouldn't want it any other way.
"My big dream is to be a highly successful football manager whose methods provide innovation for youth and senior footballers and coaches," he said.
"I started coaching for one reason and that was to make a difference for people, not just as footballers but as human beings. I'm learning lessons all the time."