Returning Eyong ruled out of Cameroon qualifier
Last updated on .From the section Football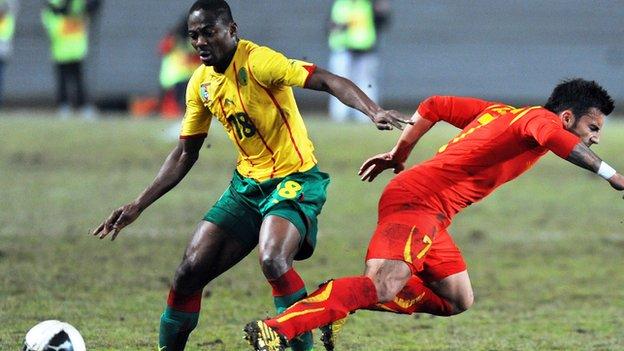 Enoh Eyong's long-awaited Cameroon comeback has been delayed after the midfielder was ruled out of Saturday's 2014 World Cup qualifier with injury.
The 26-year-old only recently returned to the Indomitable Lions squad after burying his differences with the Cameroonian federation (Fecafoot).
Last year, Eyong was issued with a two-match ban, later halved, following his role in a player strike over bonuses.
A knee injury means Eyong will miss Saturday's match at home to DR Congo.
Cameroon doctors are trying to ascertain whether the injury to his left leg will also rule Eyong out of next week's Group I match against Libya and the 2013 Africa Cup of Nations qualifier at home to Guinea-Bissau.
The four-time African champions lead 1-0 from February's first leg in Bissau.
"It's a good feeling to be back in the national team," Eyong had told BBC Sport prior to his injury.
"The last few months I have been supporting the team (from afar) and had to find out the result in Guinea-Bissau through the media."
Eyong, a former vice-captain of the national team, missed that tie after serving out his one-match Fecafoot ban.
Fresh from winning the Dutch league with Ajax Amsterdam, Eyong was recently among a quartet of senior Cameroon stars who met the country's sports minister to agree player bonuses.
Last week's meeting in France was convened to avoid a repeat of last year's strike, which involved national team players refusing to play an international friendly in Algeria.
Despite the damage caused to Cameroonian football by the incident, Eyong believes the strike has changed some aspects surrounding the Indomitable Lions for the better.
For one thing, he does not believe the details of the new bonus deal would have been made public.
"I believe the message went through because a few other things happened administratively, which helped the ministry and federation to do things properly," he explained.
"There's been publication of the bonuses and I don't think it would have been like that beforehand.
"Now they want to do things more professionally and I am sure the message went through even though it caused some (problems) later on."
As a result of the incident, four-time African Footballer of the Year Samuel Eto'o will miss June's qualifiers as he is serving an eight-month ban from the Cameroon national team.