John Barnes says Brendan Rodgers will need time
Last updated on .From the section Football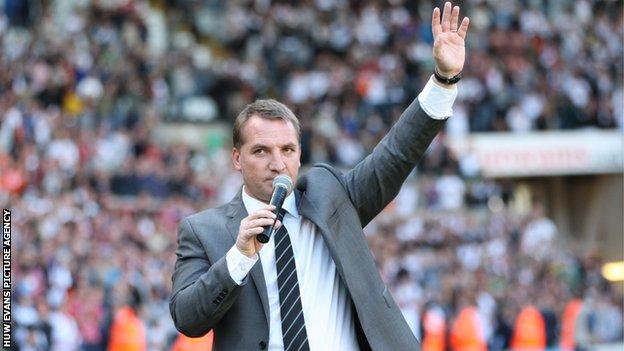 John Barnes believes Brendan Rodgers will need time and support if he becomes the new Liverpool manager.
The Liverpool legend has no doubt about Rodgers' ability, but has warned the Anfield faithful they will need to show some patience.
"As far as I am concerned Brendan Rodgers is an outstanding young manager," said Barnes.
Swansea City and Liverpool are in discussions about a compensation package for Rodgers.
The 39-year-old will sign a three-year contract at Anfield and his appointment is likely to be officially confirmed within 24 hours.
Swansea chairman Huw Jenkins confirmed his club and Liverpool are negotiating a compensation package - expected to amount to between £4m and £5m - with Swansea to secure Rodgers' services.
Barnes admitted Rodgers may not have the experience or be the "big-name" appointment that Liverpool supporters were hoping for.
"I think he plays in a very modern and comprehensive way and you can see what he has done at Swansea," said Barnes.
"Of course, [Roberto] Martinez may have started that and he was spoken about and would have been an excellent choice also.
"I think Brendan will do well if people support him. All he needs is to be given time and support.
"The problem that he will have is his inexperience and [that he] is not a big name and hasn't been around for a period of time [so] fans can say he doesn't have the experience.
"For me, it is not important at all. What is important is the quality that he actually has.
"I hope the Liverpool fans get behind him and back him because I think he is a very good manager."
Liverpool sacked manager Kenny Dalglish on 16 May after finishing eighth in the Premier League.
The Reds were 17 points away from a Champions League qualification spot, but won the League Cup and reached the FA Cup final.
Northern Irishman Rodgers guided his Swansea side to an impressive first season in the top flight, including a 1-0 win over Liverpool on the final day of the season.
After parting ways with Dalglish, Liverpool embarked on an extensive search for a new manager.
The Reds were linked not only with Rodgers and Wigan manager Roberto Martinez, but also former Chelsea boss Andre Villas-Boas, ex-England coach Fabio Capello, and Ajax manager Frank de Boer.
Rodgers initially declined the opportunity to speak to Liverpool about the vacancy and instead the club's hierarchy sought a meeting with Wigan's Martinez.
Rodgers's managerial career began at Watford in 2008 after coaching spells at Reading and Chelsea.
His return to Reading was an unhappy one but, after his appointment as Swansea boss in July 2010, Rodgers guided his Welsh side to promotion to the top flight in May 2011, making Swansea the first Welsh team to reach the Premier League.