Swansea skipper Garry Monk 'gutted' at Rodgers' Liverpool move
Last updated on .From the section Football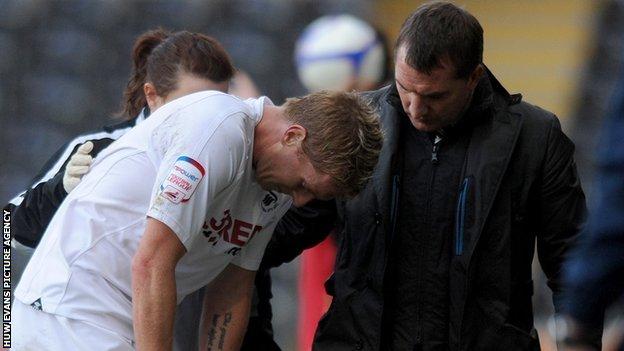 Swansea City captain Garry Monk admits he is "gutted" at losing manager Brendan Rodgers to Liverpool.
Monk's reaction came as chairman Huw Jenkins has promised they will move swiftly to appoint a successor.
The Reds are expected to confirm Rodgers' appointment on Thursday with the Swans tipped to receive up to £5m compensation.
Jenkins said: "We shall now refocus and quickly start the process of finding his replacement."
The Swans have already been linked with a move for Brighton's Gus Poyet., who was a candidate for the Liberty Stadium job at the time Rodgers was appointed in July, 2010.
First team coach Alan Curtis says Poyet could be the type of manager the club would be attracted to.
"I suppose Gus Poyet probably, at Brighton, could be one [candidate]," said the former Swansea striker.
"I know he was interviewed just before Brendan was appointed and again, it has to be a certain type of manager … it's not going to be your traditional 4-4-2 [backer].
"It has to be somebody who identifies with the way that we play and is really sympathetic towards it.
"So there would probably be only a few managers who could probably come in anyway."
But Curtis is not bitter at Rodgers' departure, saying: Curtis: "It's obviously a huge blow for everybody connected with the club.
"He's only been with us two years, but he's made a huge impact and he's going to be sorely missed, but it would be churlish not to wish him all the best," said the 58-year-old.
"We were hoping that that he was going to be with us certainly for at least another 12-month, possibly another two seasons.
"But I guess we were a victim of our own success - he's been like a whirlwind since coming into the club, obviously getting promotion in his first season and then doing exceptionally well last season in the Premiership.
"So I think somebody like Brendan and the impact he's made - I think even from a distance you can sense not only what a great manager he is, but also what a great man he is as well.
"He's got this unique ability of being able to say and do the right things.
"And I think Liverpool - apparently there's been a little bit of concern among their supporters and that it's a big gamble and who is Brendan Rodgers?
"But he's one of these… he's just got this sort of charisma, this X-factor about him.
"I'm sure he'll go into Liverpool and be a revelation, as he has been with us."
Rodgers guided the Swans into the Premier League via a play-off final win over his former club Reading and they won plaudits for displays throughout their first season in the top flight, which ended with a 1-0 win over Liverpool on the final day.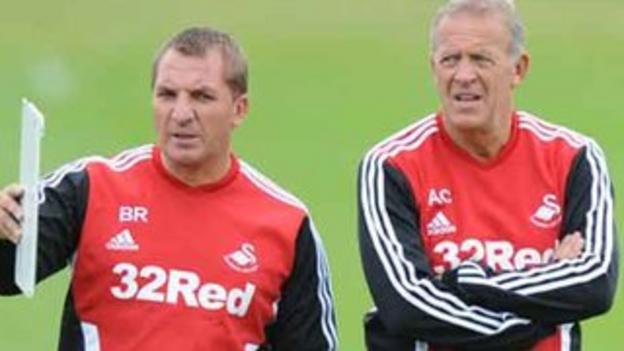 Defender Monk said: "I'm gutted. He's a top, top manager and we are very disappointed to lose him.
"He's honest, treats us like adults and knows his football. His philosophy, views and training are inventive.
"We never do the same session more than twice and that makes it exciting.
"I think every manager is different, but I think he's got the ingredients to be a top, top manager.
"As much as we are gutted to lose him he's earned the right to work for a club like Liverpool. He deserves this chance.
"There will be many names linked with the job but it's important for the board to pick the right man.
"We're a close knit club. Everyone sticks together so we'll have to do that again."
Jenkins, who brought in Rodgers as Paulo Sousa's successor in June, 2009 following Roberto Martinez's move to Wigan, admits they are disappointed to lose Rodgers.
"Although we are disappointed to lose such a talented, young British manager, we didn't wish to stand in his way," said Jenkins.
"As always at Swansea City, we want people working here who are fully committed to the task ahead.
"We wish Brendan every success in the future.
"We will always remain good friends and we thank him for all his hard work and passion at this football club over the past two years.
"We shall now refocus and quickly start the process of finding his replacement to continue the great work Brendan has carried out at this football club."
Liverpool sacked former manager Kenny Dalglish on 16 May after finishing eighth in the Premier League.
The Reds were 17 points away from a Champions League qualification spot, but won the League Cup and reached the FA Cup final.