Euro 2012: England set for lowest tournament turnout in years
Last updated on .From the section Euro 2012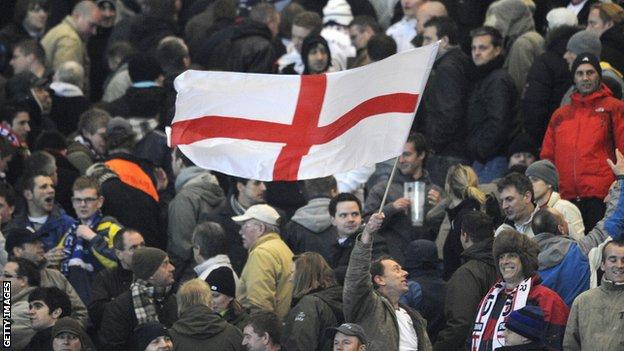 England are set to have their lowest travelling support at a tournament in years after thousands of Euro 2012 tickets were returned to Uefa.
The Football Association was given around 7,500 tickets for the games against France and Ukraine, and 9,000 for the Sweden fixture.
Only 3,000 tickets were sold through England's official membership group for each of the group games.
The unsold tickets have been sent back to Uefa and will go on general sale.
The FA are hopeful that up to 10,000 England fans will choose to travel and purchase their own tickets independently.
However, it is anticipated there will only be another 2,000 England fans at the France and Ukraine games and a further 3,000 against Sweden.
It means England supporters will likely be outnumbered as travelling fans at a major tournament for the first time in years.
Football Supporters Federation spokesman Kevin Miles believes the current economic climate, coupled with the high costs of travel and accommodation, have put many off.
"It boils down to a number of factors coming back to what people feel they get for their money," Miles told BBC Sport.
"It is hard to get flights to Kiev, with prices at a premium, while the distances between venues is huge and there is the cost involved in travelling those distances. The hotel prices have also been hugely inflated.
"It is not a holiday destination and the question is, how do you spend the days between the games? It is not the Algarve, where families could go off to the beach for a day."
Safety is also a concern and former England defender Sol Campbell recently urged black or Asian fans not to risk going to the Ukraine, telling BBC's Panorama they should "stay home, watch it on TV... don't even risk it."
The programme filmed scenes of black players being taunted as well as a group of Asian students being assaulted.
While Miles accepts fears of racial abuse is a contributing factor, he does not believe it is one of the main reasons for supporters choosing not to travel.
"I don't think it is a major factor," he added.
"It is clearly an issue but most people who are going to go to the Euros have already made their decision to travel.
"The Foreign and Commonwealth Office have an advisory on their website saying black and Asian people should exercise caution when travelling to Ukraine, but that has been their stance for the past five years."