Dartford boss Tony Burman keen to tie up Bradbrook deal
Last updated on .From the section National League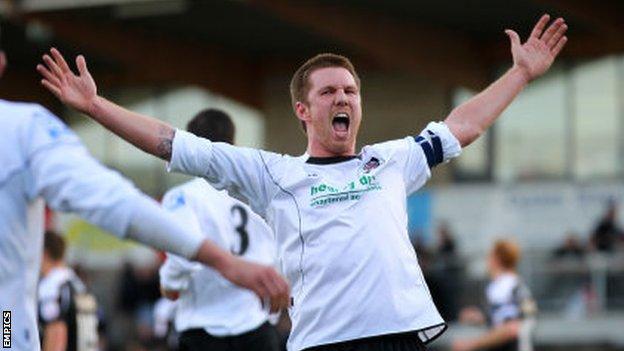 Dartford are waiting to find out if they will keep captain Elliot Bradbrook for next season.
The midfielder is the only player yet to agree terms at Princes Park, with Jacob Erskine expected to sign in the coming days.
Manager Tony Burman told BBC Radio Kent: "The bottom line is I want Elliot Bradbrook to be with us next season.
"He's been excellent for us. I felt he was one of - if not the best - midfielder in the Conference South."
Bradbrook joined the Darts in 2009 from Maidstone United, and was instrumental in their promotion via the Blue Square Bet South play-offs, scoring 14 league goals.
Dartford are expected to remain a part-time club in Blue Square Bet Premier, placing greater pressure on training and travelling.
Any deal would therefore have to suit both player and club according to Burman.
"Both parties have got to be happy with what is being put on the table and being happy to be able to do the travelling in the Conference Premier," he said.
"I want Elliot to stay but it's a big ask of some players to do that with what we'll have to do next year. They have to have a kind boss."
Dartford announced their retained list on Tuesday, releasing Paul Goodacre, Richard Graham and Matt Jones, with Bradbrook and Erskine the only players offered contracts yet to put pen to paper.
Burman confirmed that striker Erskine had agreed to the deal and would sign a contract on his return from a break on Sunday or Monday.
The Dartford manager also sought to clarify the confusion surrounding the release of midfielder Goodacre, who denied being released due to work commitments as the club initially announced.
"Unfortunately Paul is in Australia at the moment for three weeks," Burman stated.
"Paul wasn't offered terms next year. For convenience, I texted him to say that Richard and Matt couldn't commit because of work commitments.
"I said it would be better on the eye to put in about his work commitments but we hadn't actually spoken about them.
"He agreed, I went to the press with it and after that he felt that other Conference Premier clubs might think that he couldn't do things because of work."
He concluded: "Paul's a good lad and I can't fault his commitment but you have to make difficult decisions.
"It's difficult when somebody is out in Australia to phone him and tell him the bad news. We both agree it wasn't the right way but there's nothing else that we could do."