Liberia coach Kaetu Smith brushes off George Weah comments
Last updated on .From the section Football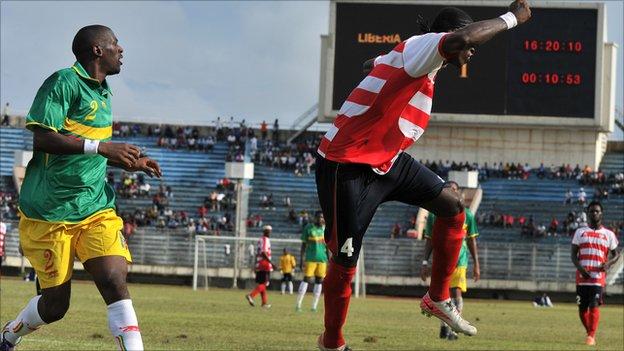 New Liberia coach Kaetu Smith has played down comments over his appointment from Lone Star legend George Weah.
But Weah felt that it was a "mistake" not to give stand-in coach Thomas Kojo a chance after he won his only match in charge against Namibia.
"Mr Weah is entitled to his opinion and I respect that," Smith told BBC Sport.
"I don't want to make it my business to react to every criticism. Mr Weah has his opinion, I should respect that so I don't want to respond to that. In fact, I did not even hear the interview."
Smith's first match in charge of Liberia comes on Saturday away to Senegal in a Group J qualifier for the 2014 World Cup in Brazil.
While Smith insisted he has prepared his side thoroughly he also admitted that there is much he does not know about a new-look Senegal, who will be without the likes of Newcastle's Demba Ba.
"We went through a lot preparing for this game and we hope that will be fruitful in our execution against Senegal," said Smith.
"I know very little about Senegal because I understand they are trying to build a new team and they are quite different from the squad that represented them at the African Nations Cup.
"We also know that they had a friendly match against Morocco in Marrakech and they won that game 1-0, which means the task ahead of ourselves is going to be tough. Knowing that, we need to be mentally and physically prepared for the ordeal."