Nations Cup-winning coach dampens Zambia expectations
Last updated on .From the section Football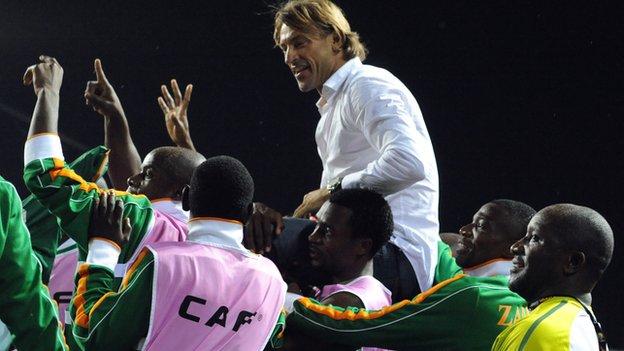 French coach Herve Renard has attempted to downplay enormous expectation in Zambia that the African champions can qualify for their first World Cup.
Fans now believe Zambia can overcome Group D rivals Ghana, Sudan and Lesotho as they chase a place at Brazil 2014.
"We were the best for one tournament but I'm really sure we are not the best team in Africa," Renard told BBC Sport.
Zambia travel to Sudan this weekend to open their qualifying campaign against a side they beat 3-0 in the quarter-finals of this year's Nations Cup.
A home match against Ghana on the 9-10 June in Ndola follows, as the Chipolopolo face another Nations Cup opponent - with the Zambians beating Ghana in the semi-finals in February.
"There are some teams that are stronger than us and we know that," said Renard.
"We know we have to be very, very good to go to the World Cup because if we play at half our level, we won't go to the World Cup because I think Ghana are stronger than us.
"We have a very tough group because Sudan were good during the (2012) Nations Cup qualifiers as they were able to draw in Ghana, and it is difficult to play in Khartoum."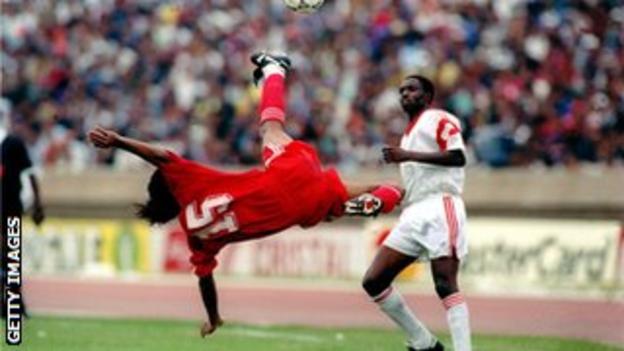 Even if the Chipolopolo manage to top their group when it concludes next September, they would still have to negotiate a two-legged play-off in October and November 2013 to qualify for the World Cup.
The tournament is being staged in Brazil for the first time since the 1950 finals and Renard says the mood of optimism among the fans is so high that many believe they could even beat the five-time world champions.
"(Qualifying for the World Cup) won't be different because we are African champions but the fans do think we can now beat Brazil," he laughed.
"But this is part of the fans and then there is the reality on the pitch.
"Qualifying for the World Cup is our dream and an expectation that both the players and I have - and it is for this reason that I stayed in Zambia.
"We will see what happens but it is our dream, and I think that this time we can get there," Renard rallied.
The closest Zambia have ever come to qualifying was for the 1994 finals, when the Chipolopolo finished just a point short in their group behind Morocco's Atlas Lions.