Norwich City rule out approach for Celtic's Neil Lennon
Last updated on .From the section Football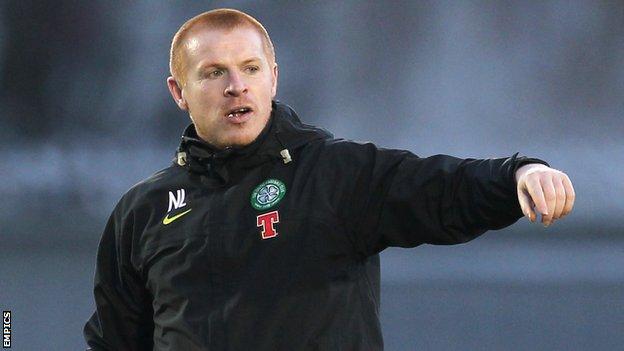 Norwich City have said they will not be making any approach for Celtic manager Neil Lennon.
But Norwich chief executive David McNally told BBC Radio Norfolk that Lennon, who won the Scottish Premier League this season, is not a target.
"We have not approached Celtic for Neil Lennon and will not be approaching Celtic for Neil Lennon," he said.
"We have a great relationship with Celtic. If we had an enquiry we'd go straight to Celtic. Neil Lennon is a great man and a great manager."
Cardiff boss and former Canaries centre-half Malky Mackay has also been touted as a possible replacement for Lambert.
And while McNally has not ruled out a future approach for the Scot, he said no contact had been made with Cardiff,
"No clubs have been approached. It's a shame both Cardiff and Celtic have been mentioned because both of those things are not true," he said.
It is believed Villa have held talks with Lambert, who handed in his resignation at Carrow Road on Thursday only for it to be rejected by the club.
And McNally is adamant that their manager will not head to the Midlands side until an agreement on compensation is reached.
"If a club wants to offer him a position they would need to agree compensation in advance of those discussions taking place," he said.
"That's all we're asking for. It's a pretty straightforward request.
"Clearly we're disappointed that Paul has said he would like to leave.
"We are absolutely thrilled with his achievements over the last three years and we will always be very grateful to Paul.
"There's been no fall out with Paul. All discussions have been entirely amicable and reasonable.
"We knew at one point this day would come. We thought this day would come and Paul would go to a really big club.
"We would love him to have a change of heart and come back. But that's unlikely."
Meanwhile, striker Grant Holt has reiterated his desire to depart Norwich, saying on Twitter: "I have expressed to the board and the CEO that I want to leave the football club. Due to disagreements."
But McNally says he will not allow last season's 15-goal Premier League scorer to exit Carrow Road.
"He's not for sale. He's under contract until 2014," he said.
"Even if, hypothetically, that position changed and he was sold, what would the replacement cost be? Huge.
"If Liverpool paid £35m for a centre forward and you look at Holt's goal return, what is the replacement cost?
"I'm sure all players are focused on doing the best for families and themselves. And why not?"
And Norwich goalkeeper John Ruddy says Norwich fans should feel "satisfaction" with the job Paul Lambert has done, even if he does leave.
"What he's done for Norwich is nothing short of a miracle really," he told BBC Radio 5 live.
"If he does end up leaving, then every Norwich fan can feel a great satisfaction with the position he's left the club in."