Artificial pitches consultation finds widespread opposition to plans
By Paul Fletcher
BBC Sport
Last updated on .From the section Football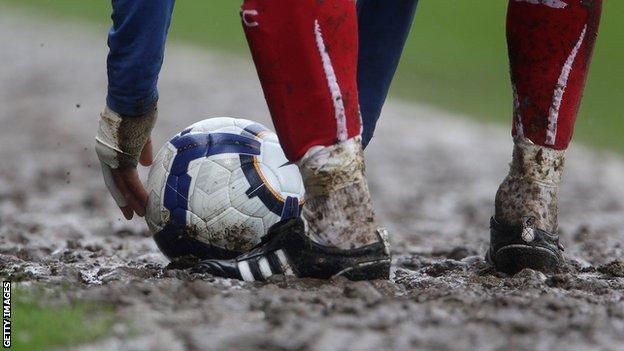 A return to artificial pitches in English football looks unlikely after a Football League consultation found widespread opposition to the idea.
The topic was discussed at the league's annual general meeting on Thursday.
And it emerged that the Premier League and Professional Footballers' Association were among the official bodies against their reintroduction.
There is no support for the idea in the Championship and just two clubs are keen on the idea in League One.
However, discussions at the meeting in Portugal on Thursday revealed a 13-11 majority in favour of artificial surfaces in League Two.
But that would not be enough to push through any change of regulations and there is not thought to be any realistic prospect of a club tabling an official proposal in the near future.
The 72 Football League clubs listened to a series of presentations on Thursday, including one from the Football Association's national facilities manager Mark Pover and another from Fifa's playing surfaces programme manager Stuart Parman.
They also heard the feedback from the consultation period, which ended in April and drew more than 1,700 individual responses from clubs, fans and official bodies.
The clubs then discussed the issue in their divisional meeting before returning with their conclusions on Friday.
Strong support had been anticipated from League One clubs. However, the potential cost of installing an artificial surface - in the region of £500,000 - combined with the likelihood that a club would have to replace it with real grass if they won promotion to the Championship are thought to have counted against the idea.
Artificial surfaces were banned by the FAD in 1988 and the last remaining one in the top four divisions - at Preston North End's Deepdale - was ripped up in 1994.
However, advances in technology, combined with possible financial and community benefits, had led to a rethink on the subject, which was discussed at several Football League meetings last season.
Clubs at the AGM in Portugal also voted unanimously to support a proposal by Exeter to encourage sportsmanship and curb gamesmanship during matches.
Clubs will tell their managers, coaches and players to avoid showing disrespect towards officials, and diving, time wasting and feigning injury will also be discouraged.
Referees will be instructed to take action against players obstructing the quick taking of free-kicks and stealing ground at throw-ins.
"As a collective of clubs, we have a responsibility to protect the image and long-term health of the game of football," said Football League chairman Greg Clarke.
"We will now use them as a platform from which to engage with those parties that can help us change our game for the better."