New mentality can see Togo qualify for World Cup - Dare
Last updated on .From the section Football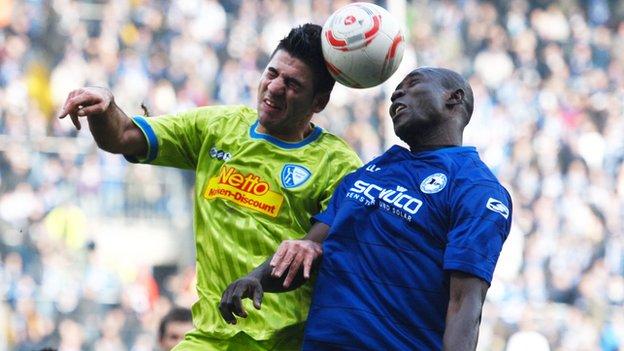 Nibombe Dare is confident Togo can put the bad times behind them and qualify for the 2014 World Cup in Brazil.
Two off-field tragedies in recent years and controversy at their first World Cup finals at Germany 2006 have badly affected the national side.
But defender Dare feels Togo's "new mentality" will help them in Saturday's qualifier against DR Congo.
"We can qualify for 2014. Everybody is aware of the importance of the forthcoming matches," Dare said.
Negotiating passage through Group I, which also contains Cameroon and Libya, to reach the finals in Brazil would be a welcome high after the lows that Togo have suffered in the last six years.
In 2007, 20 Togolese - including then-Minister of Sports, Richard Attipoe, and several members of the Togo Football Federation - died in a helicopter crash in Sierra Leone following Togo's African Cup of Nations qualifier against Sierra Leone.
Three years later, the Togo team bus was attacked by gunmen as it travelled to the 2010 Africa Cup of Nations tournament. Two people were killed and several others injured.
The incident led the Togolese government to order the team to leave the tournament and return home.
And playing in Brazil may also help to forget the tainted memory of Togo's first appearance at a World Cup finals. There was uproar when the Togo squad and manager Otto Pfitser threatened to strike mid-tournament over appearance money.
It was an unsavoury moment but Dare, who played every minute of Togo's three matches at the tournament, believes they have learned from it.
"Of course, the team has changed since we were last there - some 60-70% of the players are different - and the mentality and state of mind has changed as well," said centre-back Dare, who has played 66 times for Togo.
"It's up to us, the older players, to make the youngsters understand what their duties are when they wear the national shirt - to make sure they understand the full responsibilities of an international player.
"It's important that everybody gives the best that they have because after all, we play for ourselves, for pleasure - yes, it will be difficult [to qualify for 2014] but it won't be impossible."
Although Dare has no doubts how a new mentality will benefit the Togo squad, he is less certain of the influence of new coach Didier Six, who took over in January.
"It's too soon to say anything about what he has brought to us," said Dare.
"We have to wait until the three matches in June are played but at the end of the day, it's up to us to play the best we can and to please the coach.
"The final assessment for the coach doesn't count. What counts is the way we perform on the pitch."
After hosting DR Congo on Saturday Togo face two away games, first the return match against DR Congo and then Cameroon.