Inverness CT chairman slams Rangers over civil court action
Last updated on .From the section Football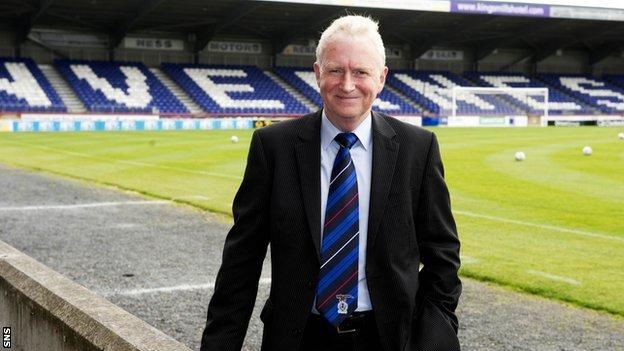 Inverness Caledonian Thistle chairman Kenny Cameron has added his voice to that of his St Mirren counterpart Stewart Gilmour in criticising Rangers for going to the Court of Session.
Rangers have successfully challenged a Scottish Football Association tribunal decision to impose a year-long ban on signing players aged 18 and over.
Football rules prohibit clubs going to civil courts over football decisions.
"This is an extremely disappointing situation," said Cameron.
"The Court for Arbitration in Sport was the correct route for Rangers to take, just as we successfully did in the Marius Niculae dispute.
"Taking sporting matters to the Court of Session was a serious mistake.
"The potential repercussions are something we certainly don't need at what is already a difficult time for Scottish football."
A Fifa statute states that "recourse to ordinary courts of law is prohibited unless specifically provided for in the Fifa regulations".
Caley Thistle went to the Court of Arbitration for Sport in Switzerland and won their case against the Romanian striker Niculae, who had been demanding £130,000 in compensation from the club over his £400,000 transfer fee to Dinamo Bucharest in August 2008.
At Rangers' appeal, Lord Glennie stated that the decision to uphold a transfer embargo on Rangers was beyond the powers of the SFA appeal tribunal, headed by his fellow Court of Session judge Lord Carloway.
Lord Glennie proposed that the matter should be returned to the SFA appeal stage, although the SFA has 21 days to appeal.
The punishments available to the SFA tribunal are a fine, expulsion from football, a ban on participation in the Scottish Cup and termination or suspension of the club's membership of the association.
Rangers had been handed the transfer ban and a £100,000 fine by the SFA tribunal for bringing the game into disrepute since Craig Whyte's takeover in May 2011.
They were also given another £60,000 in fines for contravening other rules.
Speaking after the Scottish Premier League's meeting at Hampden on Wednesday, Gilmour said: "The law is an ass. I think that sums it up.
"What's a court getting involved in football for? The decision had been made.
"Are we going to take every single sending-off to court? Is that what we are going to end up with?
"Sport should stay within sport."
And former SFA president John McBeth told BBC Scotland that Rangers had "got away lightly with their transfer embargo", a sanction that the Rangers manager Ally McCoist warned could "kill" the club.