Roberto Martinez agrees to stay at Wigan Athletic for next season
Last updated on .From the section Football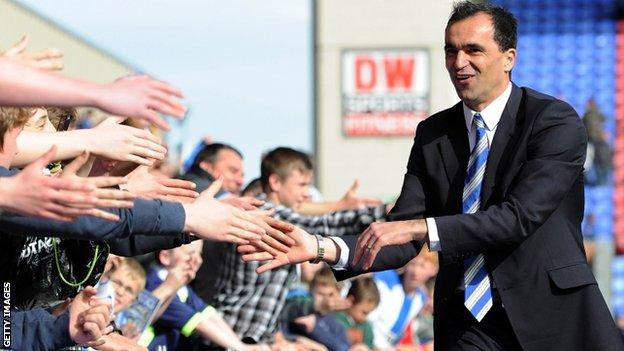 Roberto Martinez has committed his future to Wigan following talks with chairman Dave Whelan.
Martinez held talks with both Liverpool and Aston Villa before confirming he plans to remain in charge at the DW Stadium.
He returned from a holiday in Barbados this week to the promise of renewed investment from his chairman.
Whelan said: "It's very good news for Wigan Athletic and I am delighted."
Martinez spoke with Whelan on Wednesday and was assured plans for a new £1.5m indoor training pitch would be pushed through and that there would be money for new signings.
He added: "Roberto has asked me, and I agree with him, that we will improve our youngsters and our training facitlities and the training facitlites for the first team.
"He has asked for a few things he wants to do. He is always pushing the club forward and wanting to do better.
"We have lost three or four players and we have sold Charles N'Zogbia last year and there is still some money to come in from that and whatever we take in I always give to Roberto to spend."
Martinez had been a front-runner for the Liverpool job, having held talks with owner John W Henry in Miami last week.
But Liverpool are set to appoint Swansea boss Brendan Rogers instead, and Whelan claimed Martinez was put off the Anfield role because he would have had to work under a director of football.
"That is not how Roberto works," added Whelan. "He is the boss and he is the manager - he runs all the football side. The moment I heard that I thought I don't think that will suit Roberto.
"That is the way in England. Our managers control the football side, from the youngsters to the first team - the manager has complete control over everything.
"American owners, foreign owners, they seem to have different ideas. They may be right, they may be wrong but it doesn't comply with what we think. I knew Roberto could never accept that."