Play-off winning Crewe captain David Artell is released by the club
Last updated on .From the section Football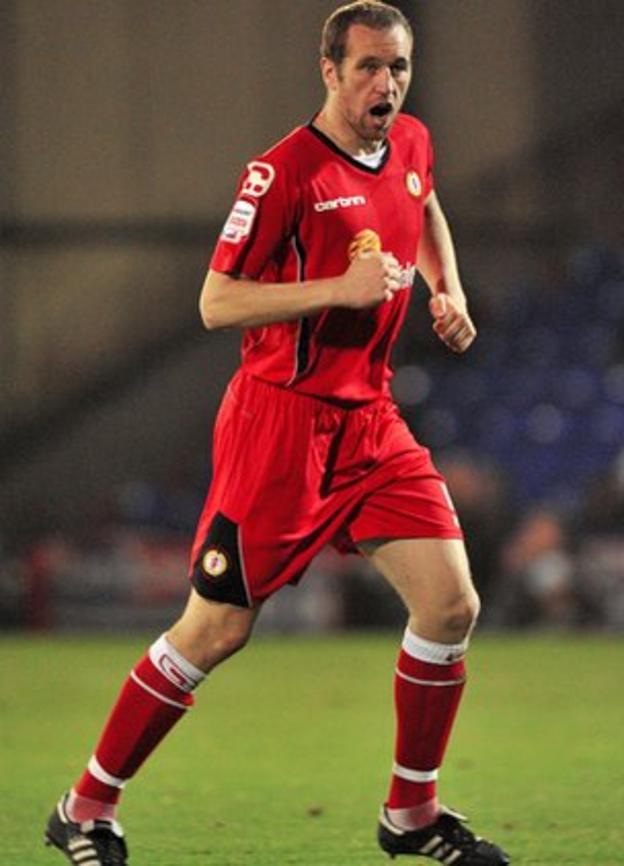 Play-off winning Crewe Alexandra captain David Artell has been released only five days after the 31-year-old led his side to League One.
Two other members of last Sunday's victorious Wembley squad have also been let go, midfielder Lee Bell and defender Carl Martin.
But 34-year-old keeper Steve Phillips has been offered a new contract.
Byron Moore, who hit Crewe's second goal at Wembley, Kelvin Mellor and Alan Martin have also been offered deals.
After enjoying the highlight of his career in helping to beat Cheltenham in the League Two play-off final, the much-travelled Artell is the major victim of Crewe boss Steve Davis's reshaping of his squad for next season's assault on League One.
Since leaving Rotherham United for a season at relegation-bound Shrewsbury Town in September 2002, Artell has spent his career in the Football League basement, also playing for Mansfield Town and Chester City, as well as Morecambe.
But, while being relegated from the Football League at Shrewsbury and then crashing in the play-offs with Morecambe were the lowlights, last Sunday proved to be the pinnacle.
When speaking to BBC Radio Stoke, Crewe assistant manager Neil Baker revealed that whilst decisions on the future of most players had been made prior to the final, some had to be resolved in light of the Wembley match.
"It's been a really difficult one," he said. "We knew definitely on some of them, but they were involved in the [final] squad and it wasn't the right time to tell them.
"What we didn't want was two or three of the players moping around.
"There were even two other players that Steve [Davis] hadn't made a decision coming back on Sunday. He said he was going to sleep on it, and I spoke to him Monday evening and we made our minds up."
Baker also said telling players their future lies elsewhere is one of the hardest jobs in football, especially following the ecstasy of winning the play-off final.
"We've had a great few days and then we have to make decisions which effect peoples livelihoods and people with families," Baker added.
"It's not an easy job, no matter how long you're in the game. I think any manager will tell you that it's the hardest job in the world to tell somebody he's not wanted."