Paul Lambert: The making of a winner
By Chris Osborne
BBC Sport
Last updated on .From the section Football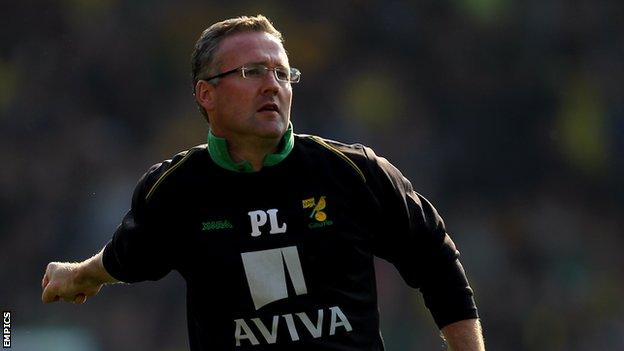 When the Wycombe Wanderers board travelled to Portugal to interview Paul Lambert for their managerial vacancy six years ago, one phrase amid the thick Glaswegian accent had chairman Ivor Beeks pricking up his ears.
"Three words stood out. 'I'm a winner.' That said it all really."
Winning has come naturally to the man from Linwood, the small, working-class town south-west of Glasgow.
As a player he was a Scottish Premier League and Champions League winner. As a manager he is a League One title and Championship promotion winner.
And now he looks set to win himself a move from Norwich City to Aston Villa.
But while his success is undoubted, the inner workings of the former Celtic and Borussia Dortmund midfielder are something of an unknown quantity.
The 42-year-old's performances in front of the media give little away, questions eliciting a range of paint-by-number responses, often without detail or embellishment.
Even his job interviews can be hard to decipher.
"He's not easy to understand. You need an interpreter with him and he doesn't actually give a brilliant interview," said Beeks, who watched Lambert take the Chairboys to a League Cup semi-final and the League Two play-offs.
"But you just get a feeling for somebody. We really did warm to the guy."
Lambert's beginnings in management were humble.
Leaving his playing days at Celtic behind him, he took charge at troubled Livingston in June 2005 and departed less than nine months later with just five wins from 32 games.
Maurice Smith, a Livingston director at the time, said: "This is my theory, but I think Paul realised there that not every player is either as skilful or dedicated as he was.
"I think that came as a bit of a shock to him.
"As a human being, he's a great guy. I was really disappointed when Paul went. He's got a lot of dignity about him.
"But he's not an outgoing character. He doesn't sit around telling you great tales about when he played against Zidane. He has a lot of humility and is very much his own man."
Things improved after Livingston, as Lambert went on to Wycombe, Colchester and then Norwich, where his two promotions and a 12th-place Premier League finish have put him in the spotlight.
And with a higher profile, the inevitable comparisons to other managers have followed - most notably his resemblance to Martin O'Neill, his boss at Celtic and a predecessor at Villa.
Some say it is a lazy likeness to draw, the similarity limited only to their histrionics on the touchline and shared penchant for tracksuit bottoms tucked into socks.
"It's an easy comparison because Paul's his own man," said former England assistant manager John Gorman, who has lent an ear to Lambert down the years.
"But you can see they're very similar in their enthusiasm for the game and getting that to rub off on the players."
Beeks, who has employed both O'Neill and Lambert at Wycombe, added: "He is his own man. But some of those mannerisms are very similar.
"Martin was a bit moody at times if something didn't go his way and Paul was a bit like that.
"They were both very polite with me. But Martin would blow and so would Paul at times. You'd just walk out the way."
And while Smith also sees the spirit of O'Neill in Lambert, he is quick to point out that Ottmar Hitzfeld, Lambert's boss at Dortmund - where he became the first British player to win the European Cup with a foreign club - has had an influence too.
"I think his training and approach to players is borrowed from Hitzfeld. He was a huge admirer of his. And I think it was because of Hitzfeld he deliberately did his coaching badges in Germany," he said.
"Some of the training techniques he tried were more to the German model than the British model."
Wherever the influences have come from, it is a style that ekes the best out of unglamorous players.
"I remember being so impressed with him on a matchday and his ability to get the most possible out of every single player," said Chairboys midfielder Matt Bloomfield.
"He makes you achieve to your maximum. He could make you feel like a million dollars. But he knew how to bring you down a peg or two as well.
"If you did well for him he would look after you. That was the deal.
"That Glaswegian comes out of him at times. If players aren't doing the business you know about it."
But one thing that seems a given when it comes to Lambert is his single-mindedness.
It is illustrated by the fact he has left every club he has managed of his own volition, leading supporters to argue whether it is the mark of a man of ambition or disloyalty.
"You never think of it as disloyalty," said Smith. "You knew from the beginning that Paul was always going to be a successful manager because he's got that drive and attitude.
"I'm almost disappointed he might end up at Villa. I think he'll end up at a bigger club than that."
Beeks, who was left without a manager when Lambert walked away from Adams Park in May 2008, believes Villa fans could find themselves in the same position as their Canaries counterparts further down the road.
"He is a man in a hurry. He sees where O'Neill is and I think he thinks: 'I've got to get cracking,'" he said.
"He's not finished yet. When he goes to Aston Villa he won't be finished."