Brendan Rodgers saddened to leave Swansea for Liverpool
Last updated on .From the section Football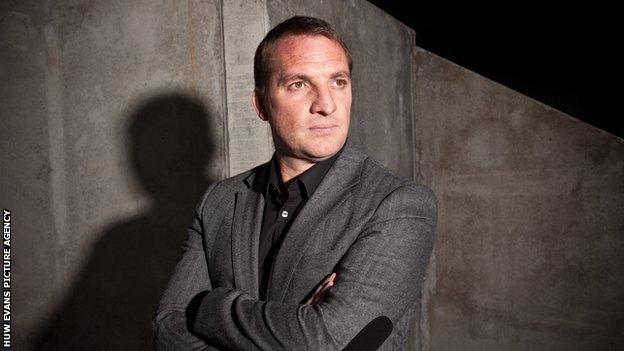 Brendan Rodgers says he leaves Swansea with a heavy heart but hopes people understand the chance to manage Liverpool was too good to turn down.
Swansea are understood to have agreed a compensation package totalling £7m.
"The only way I was going to leave Swansea was for a big club, and I mean a big club," Rodgers told the South Wales Evening Post.
"It was an extremely, extremely difficult decision because my plan was always to stay here at Swansea for a number of years."
As well as losing the services of Rodgers, coach Colin Pascoe, assistant performance analyst Chris Davies and performance consultant Glen Driscoll will quit the Liberty Stadium for Anfield.
"I have always been up front and honest. I have always said that I wouldn't be here forever and that one day I would go, but I honestly never thought the opportunity would come round now," Rodgers added.
"In my life and in my football, I have been very happy in Swansea but when an opportunity to work at a club which is more than a club comes round, it's a professional challenge which is too good to turn down.
"Liverpool are one of the dynasties of the game. They have won five European Cups and their status is up there with AC Milan, Inter Milan, Barcelona, Real Madrid and Bayern Munich."
Rodgers won praise for his attractive style of play at Swansea and initially turned down an approach from Liverpool before it became clear he was their preferred target.
"I turned them down once out of respect, because I didn't want to go into a process and disrespect anything about Swansea," Rodgers admitted.
"When they come in a second time and make you their number one target, then you have to think.
"We have seen over a number of years that the number of British coaches who get a chance at the big clubs is very few.
"When those opportunities come, and they may come only once, you have got to make a decision."
Wigan boss Roberto Martinez, Rodgers's predecessor at Swansea, was also a target for Liverpool.
Martinez's assistant, Graeme Jones, has emerged as an overwhelming favourite to take over from Rodgers.
"I am sure the next person who comes in at Swansea will feel the warmth of the people like I have done," the Northern Irishman said.
"And I am sure whoever it is that takes over will go on and be successful as well.
"They will have an incredible group of players to work with, and a group of supporters who are up there with the best in the world in terms of football.
"They will have a real genuine, honest group of hard-working people behind the scenes who will give them every opportunity to succeed.
"And they will have a board of directors, and in particular a chairman [Huw Jenkins], who will give them all the help they can.
"A big part of my sadness in leaving is because the relationship I have had with Huw Jenkins has been amazing.
"I have developed a great working relationship with him and equally a good friendship.
"We have always been open and honest with each other, and that's what allowed this process [with Liverpool] to happen.
"Because of all that I can only see things going one way for Swansea - I think there will be more progress."
Brighton boss Gus Poyet, Blackpool's Ian Holloway, Birmingham's Chris Hughton and former Denmark international Michael Laudrup have also been linked with the vacancy at the Liberty Stadium, along with Jones.