Bolton chairman Phil Gartside allays fears over the club's debt
Last updated on .From the section Football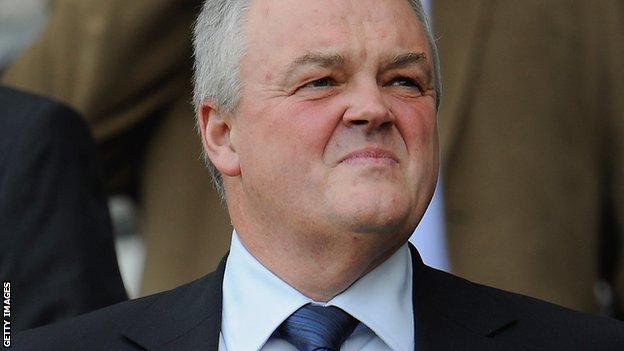 Bolton chairman Phil Gartside says owner Eddie Davies will continue to bankroll the club, despite relegation to the Championship.
Wanderers are burdened with a debt level of £110m, although only £10m is owed to banks, with much of the debt owed to Davies.
Gartside told the club's website: "We have a debt, yes, and it is to Eddie.
"We have been very fortunate to have had that backing and investment. He wants to continue backing us."
He added: "With Eddie you could call it an investment, a soft debt, in that it is what he has spent over the last 11 years funding us in the Premier League."
In the last two seasons, Newcastle and West Ham have been promoted at the first attempt following relegation.
Gartside says manager Owen Coyle will be given whatever he needs to ensure Bolton make an immediate return to the Premier League.
"Owen's plan will be backed - whatever he wants to do he will get to do it," he said.
"During my time in football, I have never had a season like [last season] in terms of injuries and mishaps. We had some serious blows in losing Gary Speed and, when you thought things couldn't get worse, there were the events surrounding Fabrice [Muamba].
"But we start next season with a clean slate.
"We have a real chance I believe and I am looking forward to that, but nobody at our club is making the mistake of underestimating the Championship."
Coyle will be encouraged to sign players on loan once again, with Bolton having used the loan market to good effect in recent seasons, bringing in the likes of Jack Wilshire and Daniel Sturridge.
Gartside said: "We will be looking once again to bring players in on loan, and this has been very successful for us in the past couple of seasons, and the opportunity in the Championship is greater because you are not restricted to just two.
"We have enough goodwill with the teams like Arsenal, Chelsea and Manchester City and we will be working hard to utilise that."