Striker Billy McKay signs new Inverness CT deal
Last updated on .From the section Football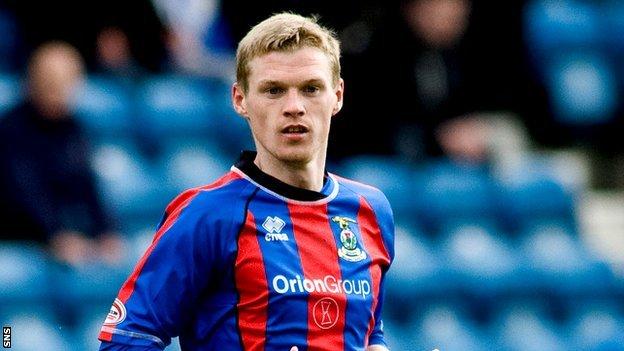 Striker Billy McKay has signed a new two-year contract with Inverness Caledonian Thistle.
The 23-year-old former Northern Ireland under-21 international joined the club from Northampton last summer.
McKay is the second player to commit to staying at the club along with goalkeeper Ryan Esson.
"He showed good promise in his first SPL season and we think his best is yet to come," manager Terry Butcher told the club's official website.
However, Austrian defender Thomas Piermayr has joined a band of players who decided to leave the Tulloch Caledonian Stadium.
"Thomas has indicated that he wants to play his football in Germany so we wish him all the best", said Butcher.
Butcher also revealed that he has held talks with defenders Kenny Gillet and Ross Tokely and Welsh international midfielder Owain Tudur Jones, who are all out of contract shortly.
He said: "Gillet, Tudur Jones and Tokely have been in touch and have been granted extra time in which to consider the new contracts we've offered them."
The Highland manager also admitted that the club could not match the offers made to departing players, Jonny Hayes, Gregory Tade and Greg Tansey.
"We made these players the best offers we could in our financial situation," he said.
"But other teams have been able to give these men a huge financial incentive to leave the Highlands and ply their trade elsewhere.
"Their progress, however, is a boost to the standing of Inverness.
"Players and agents increasingly see us as a club that can promote and improve players' chances of resurrecting careers which had fallen off track.
"This is what we do at Inverness. Players like Adam Rooney, now at Birmingham City, and David Davis, who has won a new three-year deal at Wolves following his six-year loan spell at Inverness, are illustrations of the positive environment we nurture here."
He also said the club had already earmarked potential replacements for the departing players.
"We've targeted several players but details of these potential signings cannot be divulged at this stage because of contractual privacy."