Brendan Rodgers: Eloquent boss impresses on Anfield debut
Last updated on .From the section Football182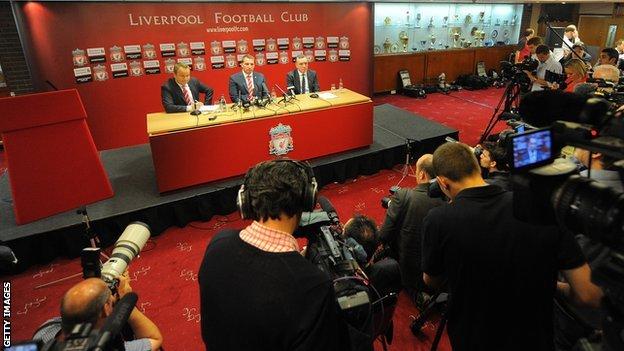 By the time the gospel according to Brendan Rodgers had drawn to a close he was preaching to the converted.
At the height of their powers, the great Anfield managers of the past have had the influence of a spiritual leader and for those seeking those qualities in Rodgers, his message must have been a seductive one.
Few Anfield debuts have displayed as much conviction, charisma and confidence. At times he was firm, at others eloquent - it was clear he was alive to the feelings and sensitivities of this unique fan base.
After his commitments with the media were over, he even took time to speak with a group supporters walking around on Anfield on the club's official tour.
At times during his turbulent and ultimately ill-fated reign at Anfield, Roy Hodgson was accused of "not getting" the club or the city, but Rodgers didn't put a foot wrong.
Rodgers was at pains to stress the "door is always open". He has already spoken to captain Steven Gerrard, the pair getting on famously by the new manager's own admission, and attempted to make contact with Jamie Carragher on Wednesday night.
There was an acknowledgement of the qualities he has at his disposal in the current squad, with Rodgers describing Gerrard and Carragher as "Premier League legends" and name-checking Pepe Reina and Craig Bellamy. But while there was praise for the current crop of players, Rodgers hinted at a willingness to add to the squad, with the owners prepared to give the new manager about £30m to spend this summer, plus anything he raises from sales.
"The principles of your game are based on the players you have, but I will look into into seeing if we need to bring anyone in to improve that."
Rodgers lit up a room deep in the bowels of the Main Stand, glowing with an ambition and hunger that will have chimed with the great names of the past whose images surrounded him while he spoke.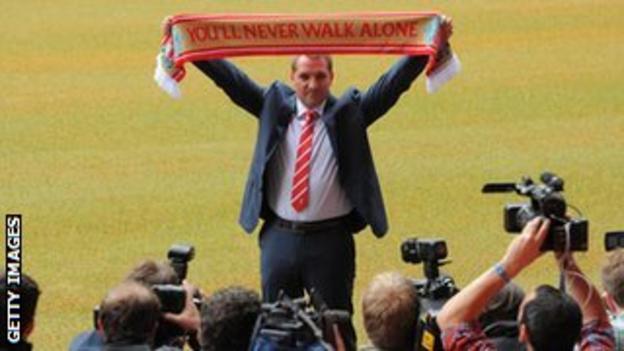 There were ringing endorsements from chairman Tom Werner and managing director Ian Ayre, who repeatedly re-emphasised the many qualities that attracted them to Rodgers: youth, vision, a commitment to play attractive, attacking football and a willingness to work on a budget.
"This is one of the most important steps we will take in building the kind of club on and off the pitch supporters can be excited about," owner John W Henry said.
"Brendan's comprehensive football philosophy is perfectly aligned with those at the club and those soon to join the club. He was the first choice unanimously among them and he had no hesitation at all in embracing exactly what we want to try to build at Liverpool."
Tom Werner added: "The style of football Brendan is associated with is exactly what we want see at Anfield."
Rodgers neatly negotiated the subject of reported interest in many of his former players at Swansea, turning his answer into a love letter to south Wales. "The only thing I want to say about Swansea is my deepest gratitude for what they have done. It was a very special two years I had there. We created history, it's a sad day to leave."
The question over a reported "gentleman's agreement" with Swansea chairman Huw Jenkins over not recruiting his former players remains unanswered. The coming weeks may provide a more definitive response.
Replacing a living legend is no easy task but Rodgers ensured there was a nod to Kenny Dalglish. "Kenny was the manager here at 34 and resigned at 39. He won three league titles and two FA Cups."
The Northern Irishman will be desperate to replicate that success on the field but in terms of his public demeanour Rodgers is the antithesis of his predecessor. The many PR blunders that damaged Liverpool last season are unlikely to be repeated with a manager who is so engaging in front of the world's media.
Rodgers was firm and assured when the subject of a proposed director of football was raised. Liverpool's owners had spoken with Louis van Gaal but Rodgers admitted his desire for total control of all footballing matters.
The club remain committed to a sporting director structure but without a single person at the apex. Further appointments are expected to be announced in the coming weeks but Rodgers will have the final say.
"If it was a sporting director, that was something I made clear I couldn't work with. What you need is an outstanding team. We will form a technical board that will have four or five people that will decide the way forward."
In the past Swansea players have told friends that he made them feel "like a million dollars" when he walked into the dressing room at the Liberty Stadium.
His first words as manager of Liverpool will have inspired excitement among the fans, he must now enthuse the players in equal measure.
It would be foolhardy to predict great things for any manager based on two fantastic seasons with Swansea and one impressive news conference.
Rodgers knows, perhaps better than anyone, that success does not happen by mistake.
His 20-year coaching career is testament to that above all else.
The hard works begins now.