West Ham dismiss Orient hopes of Olympic Stadium ground share
Last updated on .From the section Football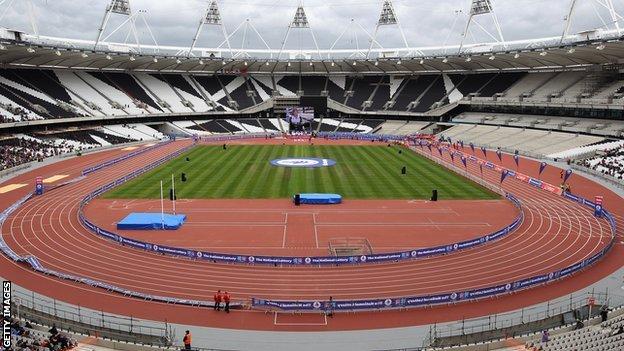 West Ham have dismissed suggestions they could share the Olympic Stadium with Leyton Orient.
But West Ham insist they are not considering such an arrangement.
"West Ham United has not held talks with Leyton Orient in respect of ground sharing and nor is it our intention to do so," their statement said.
"We do not wish to comment on recent statements made by Barry Hearn not least because we can't keep up with his ever-changing position.
"They continue, however, to provide us with a constant source of amusement.'
Hearn had previously considered moving to the Olympic Stadium, but withdrew on the basis that it was "not fit for football".
The League One club's chairman feared that if West Ham moved away from Upton Park it could threaten the O's survival by tempting fans away from Brisbane Road.
The newly-promoted Premier League club have been looking at the feasibility of including retractable seating at the venue, which is due to be converted into a 60,000-seater stadium after the Games.
In March the Hammers were named as one of four bidders looking to take control of the stadium following the conclusion of the Games and, at the same time, it was confirmed that the O's were not among the quartet.
The London Legacy Development Corporation has extended the tenancy bidding process until after the Games.
Hearn had suggested that the two clubs could be the first London sides to share a ground on a permanent basis.
He told BBC Sport: "Subject to the changes West Ham are asking for, namely covering the running track, we'd be interested in bidding for the stadium as part of a ground-share with them.
"We will now talk with the Olympic authorities."
But West Ham maintain there is no change in their plans and their statement added: "Our requirements, made clear from the outset, are for a stadium fit for world-class football that maintains the athletics legacy and would ensure a truly multi-purpose globally-renowned stadium."