Euro 2012: Will block defence and lack of width count against Spain?
By Alistair Magowan
BBC Sport
Last updated on .From the section Euro 2012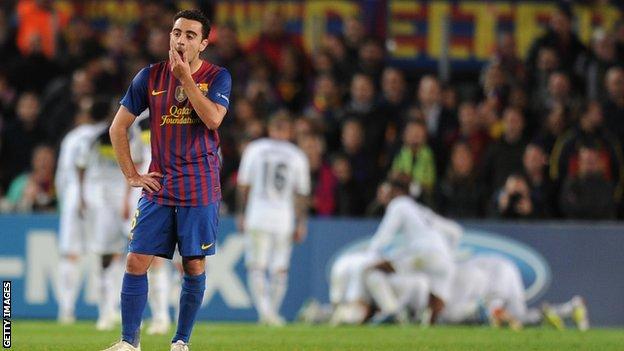 Spain's domination of football arguably began four years ago when Fernando Torres tucked in Xavi Hernandez's through ball to beat Germany 1-0 and seal the European Championship for the first time since 1964.
Despite a relatively low-key season for Barcelona - beaten by Chelsea in the Champions League semi-finals and pipped by Real Madrid on the domestic front - there is no reason to doubt this will continue.
But in the aftermath of that defeat by Chelsea, when even Barca coach Pep Guardiola questioned whether high pressing and all-out attack was the best way to win matches, there was a sense that, perhaps, some of the aura surrounding his players had disappeared.
Of course, Spain and Barcelona are not the same team, but there have still been questions over whether the national side have the energy to go a long way into Euro 2012 and whether there is the same desire now they have shed their underachievers tag.
The way Chelsea defended resolutely against Barcelona brought back memories of Greece's triumph at Euro 2004, when a backs-to-the-wall approach produced one of the biggest shocks in football history. Might teams might adopt a similar approach against Spain in Poland and Ukraine?
"I don't think there has been any demise in Spanish football," says former Liverpool midfielder Jan Molby, a member of Denmark's squad at the 1984 European Championship in France.
"But it shows you how quickly football evolves that teams have got used to playing against Barcelona. Even with the Spanish team, I'm thinking where does the width come from with pace? So they are becoming a little bit predictable."
Former Chelsea winger Pat Nevin, who has watched a lot of Athletic Bilbao during their run to the Europa League final this season, thinks Spain are still the strongest outfit at Euro 2012.
"Chelsea's victory will give other teams hope but I don't think it will stop Spain because of what they can draw from other teams," he says.
"People tend to be bit myopic and just look at Barcelona and Real Madrid but Spain have other fantastic players like Juan Mata, David Silva, Fernando Torres and Fernando Llorente. Torres and Llorente also give them a goalscorer at the top of their formation."
Spain lit up the 2010 World Cup with key players such as David Villa, Andres Iniesta and Xavi quickly combining to open up opposition defences.
But their ability to work in tight spaces around the edge of the box, means they do not always move the ball wide and it is something which could count against Vicente del Bosque's side in the knockout stages.
Fifa's technical report on the 2010 World Cup said: "In modern football, it is very difficult to get behind the opposition defence as teams are often very compact with eight or nine players behind the ball.
"That is why teams now need outstanding individual players who can make their mark one-on-one, particularly down the wings where they can create space that often does not exist down the centre."
The Netherlands can rely on Arjen Robben to do that, and Germany have Thomas Mueller, while France and Portugal can look to Franck Ribery and Cristiano Ronaldo. For Spain, though, a more narrow midfield may play into the type of block defence Chelsea used successfully.
Uefa's report from Euro 2008 highlights the "positive possession" and "creative combinations" that were a feature of Spain's triumph in Austria and Switzerland, yet it also noted that easily the most common method of scoring from open play in the tournament was via crosses.
The importance of flexibility in approach and the ability to counter-attack quickly have long been recognised.
And Molby, who will be part of BBC Radio 5 live's commentary team at Euro 2012, believes Champions League finalists Bayern Munich might now be the template teams look to rather than Barcelona.
"If you look at Bayern, a lot of teams will try to play like them, which means that when you are in possession it's all about getting to an end-product as quickly as you can," he adds.
"You'll see the Dutch, the French and the Germans will be real counter-attacking teams, whereas Spain don't do the same. They don't gamble like other teams do."
The common thread between Spain, Germany and the Dutch is that they tend to play with two holding midfielders, allowing a front four to be supported by attacking full-backs. It was a system that led all three teams to the World Cup semi-finals in South Africa two years ago.
The other team in that quartet was Uruguay, who fielded the 4-4-2 formation expected to be favoured by England coach Roy Hodgson, which at least suggests the formation is not, of itself, a barrier to success so long as players are used creatively within it.
Hodgson will be able to call upon two of the defenders that helped Chelsea triumph in Europe this season and may remind his side of the 1-0 win over Spain at Wembley last November.
But Molby believes England cannot match other leading countries in attack and, despite his reservations over the defending champions, he welcomes the part Spain have played in restoring a more appealing balance to the game.
"We are back in a period where coaches are focusing on teams having the ball," he added. "Teams like to be in possession, they like to be in charge and I feel like that is a positive development.
"You go back 10 years ago and it was a lot more about being organised without the ball. Now it's about being capable with it."