Euro 2012: Cesare Prandelli has no problem if Italy withdraw
Last updated on .From the section Euro 2012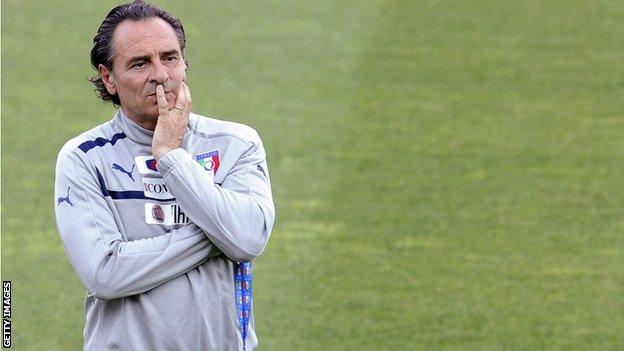 Coach Cesare Prandelli says he would not have a problem if Italy withdrew from Euro 2012 amid match-fixing allegations in the domestic league.
Police made 19 arrests while Domenico Criscito was dropped after he was questioned at Italy's training camp.
Italian prime minister Mario Monti called for a suspension of football.
"If you told us for the good of football we should not participate, it wouldn't be a problem for me," Prandelli told Italian TV.
"There are things that I believe are more important.
"I dislike crusades. I prefer to face up to things and not take positions without considering the consequences.
"I would rather only talk about football, but events are conspiring against this."
Zenit St Petersburg defender Criscito says he has been made a "scapegoat" after his public questioning.
He told Gazzetta dello Sport: "I was shocked. Being dropped from the squad, I know, makes me a symbol of the scandal.
"I feel anger and sorrow because I should not be a scapegoat for something I am not involved with."
Italy are in Group C with the Republic of Ireland, Spain and Croatia. Their first game is against current holders and world champions Spain on 10 June.
Monti said this week it might be better for football to take a break in the country until what appear to be deep-rooted problems with match-fixing are solved.
Prosecutors are studying suspicious results in 33 matches.
The probe could lead to another damaging trial, similar to the one in 2006 that saw Juventus relegated to Serie B and other major clubs suffer points reductions.
And the Azzurri's pre-Euro 2012 preparations suffered another setback when they lost 3-0 to Russia in Zurich on Friday night.
Alexander Kerzhakov scored once and Roman Shirokov twice in the convincing victory.
"We have suffered a lot," Prandelli said. "We have made many mistakes and we hope that we have used them all tonight.
"Russia were better than us physically, from an intensity and temperament point of view.
"Perhaps losing in this manner can help us as we return to work in order to improve."