Rangers administrators say they can cover players' full wages
Last updated on .From the section Football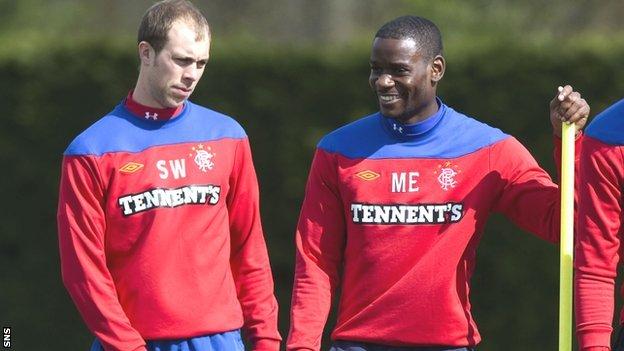 Rangers' administrators Duff & Phelps claim they have enough money to cover the players' return to full wages.
The club's Company Voluntary Arrangement (CVA), issued on Tuesday, estimated a summer shortfall of £3m as creditors assess the proposal.
"The funding is in place for the club to operate normally until the sale is complete, which should be in July," said a Duff & Phelps spokesman.
The wage cuts accepted by the Rangers players in March ended on 31 May.
The players had agreed to temporary cuts of up to 75% of their salaries as the club sought to limit costs after slipping into administration on 14 February.
But now that that period has ended, the players must be paid in full - and those who agreed to reduced pay are able to leave on cut-price deals.
If successful, Charles Green's consortium will take over the club in about six weeks' time, with £8.3m of their £8.5m bid being in the form of a loan.
However, even if the CVA is rejected by Rangers' creditors, the consortium may take over by buying the club's assets.
Fans raised concerns on Thursday about how the club could operate when there was no cash injection from match days.
But the administrators say the cash is there, with the costs expected to be met by Green's Sevco company through either transfer fees or season ticket revenue.
Meanwhile, Fifa are thought to be more satisfied now that Rangers' successful appeal against a Scottish Football Association tribunal's ban on signing players has returned to the footballing domain.
Rangers had risked the wrath of Fifa by taking their appeal against the year-long transfer embargo to the Court of Session and not to the Court of Arbitration for Sport.
Lord Glennie ruled the SFA panel had no right to impose the punishment under the governing body's rules and returned the case to the SFA, which in turn has referred it back to its internal appeals process, a date for which will be set next week.