Roy Hodgson: racism at Euro 2012 must be tackled by officials

By Phil McNulty
Chief football writer, BBC Sport
Last updated on .From the section Euro 2012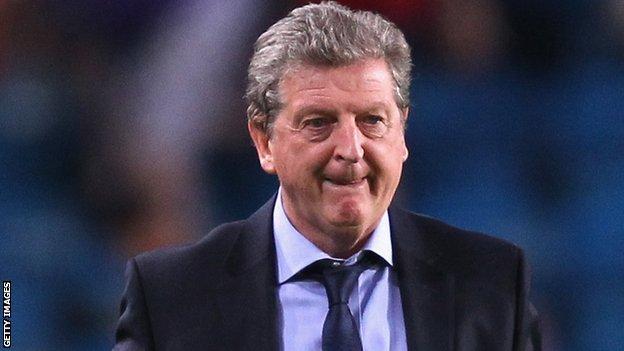 England manager Roy Hodgson says he will leave it to Uefa and referees to take action if any of his players are racially abused at Euro 2012.
England's Euro 2012 squad were addressed by Holocaust survivors Zigi Shipper and Ben Helfgott MBE at their Hertfordshire headquarters on Thursday.
Hodgson said: "My stance is simple. It's a matter for referees and Uefa.
"You're talking about something that is abhorrent to anybody, not just in football but in every walk of life."
A recent BBC Panorama programme revealed cases of racism and anti-semitism in football grounds in host nations Poland and Ukraine - and Manchester City's Italy striker Mario Balotelli has threatened to walk off the pitch if he is abused.
Discussing the talk from the Holocaust survivors, Hodgson said: "[The impact of racism] has been brought home to me with great effect on Thursday when you listen to two survivors of the Holocaust, two guys born in Poland who have a story to tell of how prejudice cost them everything but their lives.
"It cost six million people their lives and they happened to be two of the lucky ones. Racism in any form has to be abhorrent."
He added: "It is a topical question and one that I am sure is being heavily debated in Uefa - not just today but I bet they've been doing it for the last four years since it was decided the tournament would take place in Poland and Ukraine.
"What we can do, having qualified, is go there and play football to the best of our ability. This very important problem has got to be taken care of outside the footballing family.
"If Uefa decides that if something happens it will be the referee's job, [and says] this is what the referee will do, we will be the first people to side along with that.
"But we, as football people, shouldn't be taking the initiative. Players and coaches may come out and say things but I want Uefa and referees to control the issue."