Liverpool's Steven Gerrard says Brendan Rodgers was first choice

By Phil McNulty
Chief football writer, BBC Sport
Last updated on .From the section Football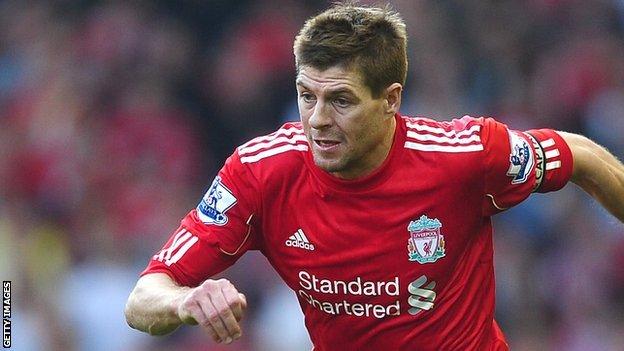 Steven Gerrard has taken a swipe at Wigan Athletic chairman Dave Whelan as Liverpool's captain insisted Brendan Rodgers was always first choice to succeed Kenny Dalglish as manager.
Despite the club holding talks with Martinez, Rodgers emerged as Liverpool's favoured option and signed a three-year deal at Anfield.
Gerrard is with England's Euro 2012 squad ahead of Saturday's final friendly against Belgium at Wembley before their campaign opens against France on 11 June in Donetsk.
He said: "I've been kept in the loop all along by the board and the owners and he was always first choice - so take no notice of Dave Whelan.
"I can go on record and guarantee he was first choice."
The England captain is pleased by the arrival of 39-year-old Rodgers, adding: "I've kept my eye on the television and am aware of what's happened. I spoke to Brendan on Thursday night for quite some time.
"I'm very excited and looking forward to working with him. Before I spoke to him I had heard great things from the Chelsea boys and a few of the others who have worked with him. I've done a bit of homework and everyone speaks really well of him.
"He never went into detail about his visions for the club but I'm sure he will in future. It was basically just a meet and greet kind of phone call.
"As a player you don't like to see changes in managers. You want continuity. Hopefully he can progress the team, move us forward and stay for a long time. It's good to work with a manager for a long time. You get used to him and into a rhythm.
"Brendan is excited and looking forward to working with all of the players at Liverpool - I feel exactly the same."
Gerrard has also backed his 21-year-old Liverpool team-mate Jordan Henderson to make an impact at Euro 2012 if he gets the opportunity after replacing Chelsea's Frank Lampard, who was forced to withdraw with a thigh injury.
"Jordan's had a little bit of criticism," said Gerrard, "but credit to him. He's played through it and he was getting stronger and stronger towards the end of the season. He did well when he came on against Norway.
"The manager Roy Hodgson has seen a lot of him in the Under-21s, where he has been fantastic. He's got a very bright future. People judge Jordan on his price tag rather than his age, potential and what he's going to do in the future.
"He's still got everything ahead of him. I was nowhere near the finished article at 21 and had a lot of learning and improving to do. I'm sure Jordan will do the same.
"Jordan is a very good passer, very fit, looks after himself and never touches alcohol. He's got a body a lot of footballers would be jealous of. He's a big strong lad who can get around the pitch. With time, games in the Premier League and experience at this level, he will get better and better. I'm sure of it."