Norwich City tell Grant Holt he is too old for three-year deal - agent
Last updated on .From the section Football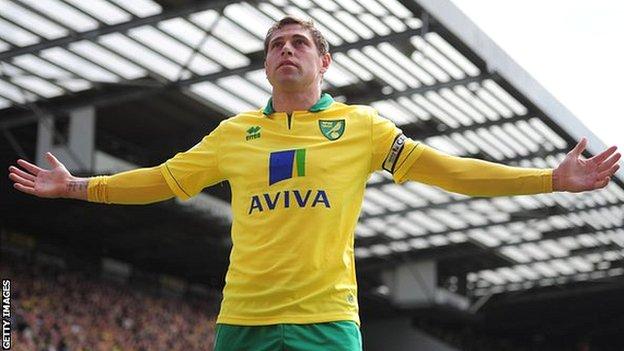 Grant Holt's agent claims Norwich City have refused to offer the striker a new three-year contract as he is "too old".
Lee Payne told BBC Radio Norfolk that Holt, 31, has been left "hurt" after negotiations over a new deal stalled.
Payne alleged talks broke down when Canaries chief executive David McNally questioned the age of the club's top scorer.
"David bluntly turned around and said 'you're too old so forget a third year'," said Payne.
Former Nottingham Forest striker Holt handed in a transfer request, which has been rejected by Norwich, who are searching for a new manager after Paul Lambert was appointed Aston Villa's new boss.
But McNally denied there was any rift with the player last week, when he wrote on Twitter: "We have not had an argument or row with any player, including Grant."
Payne said Holt was still seeking to leave the club, adding: "We felt we had to speak up because I've seen a lot of comments from fans giving Grant absolute pelters and it's just not fair.
"Grant loves the club and the fans have got to ask themselves why has Paul Lambert left? Why does Grant Holt want to leave?
"He [Holt] has got two years left on his contract and all he really wanted - before he even spoke about money - was a third year.
"He wanted to finish his career at Norwich, but being told 'you're too old', I just think it was the wrong thing to do."