Celtic manager Neil Lennon focussed on Europe, says agent
Last updated on .From the section Football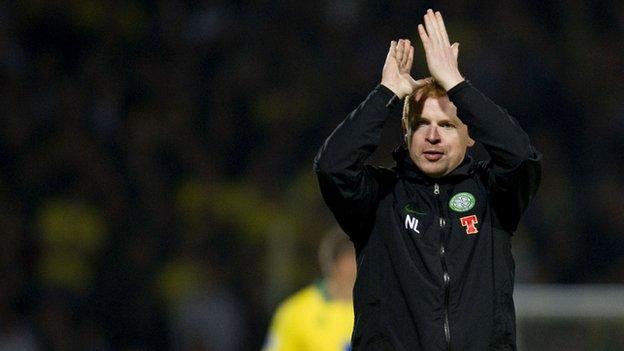 Neil Lennon's agent has hinted his client would like to work in England one day, but insists his main focus is leading Celtic in the Champions League.
The Canaries are without a manager now that Paul Lambert has taken over at Aston Villa.
"To have a chance to be a manager in the Champions League is certainly top of his agenda," said Martin Reilly.
"I certainly haven't had any conversation with Norwich. I know there was a lot of rumour flying about that there might be a possibility of an interest.
"Every time there's a job that comes up, there's always some kind of speculation it might be Neil.
"As far as I'm concerned, he's the Celtic manager and he's loving the job and looking forward to the new season.
"I dare say in the future every manager would like a chance of something in the Premier League but hopefully that might be with Celtic one day.
"It is something that we've spoken about but, at the moment, he's really honoured to be Celtic manager and that's what he wants to do."
Lennon followed a Scottish Cup triumph in his first full season in charge with the Scottish Premier League title last term.
And Celtic will need to negotiate qualifiers if they are to reach the group stages of Europe's premier competition.
"He'll be away on holiday then he'll get back and get into it with the new signings and hopefully go on and do well in Europe next year," Reilly told BBC Scotland.
"He's on a rolling contract so he's at Celtic until we hear different.
"He's loving the job. [Chief executive] Peter [Lawell] and the staff have been great with him as well so he's a very happy man.
"Celtic's a massive, massive club to be the manager of. He's grown into the job, he's still a very young manager."