Euro 2012: Danny Welbeck targets start for England after first goal
Last updated on .From the section Euro 2012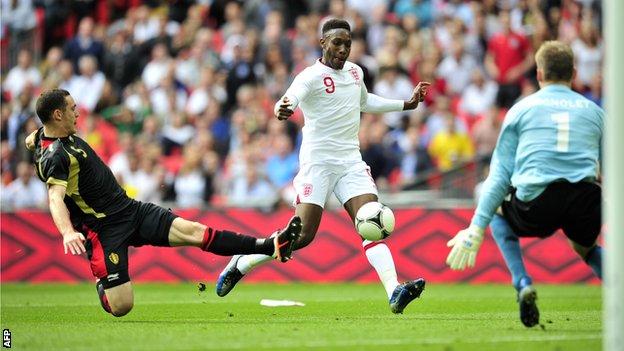 Danny Welbeck has targeted a starting place in the Euro 2012 opener against France after scoring his first goal for England in the 1-0 win over Belgium.
Welbeck, 21, faces competition from Andy Carroll and Jermain Defoe.
"I'm just really looking to build on that performance and get more games under my belt and more goals," said the Manchester United striker.
"To get my first England goal in that way [with a dinked finish over the goalkeeper following Ashley Young's through ball], obviously I'm really delighted and it's a massive honour.
"It's something I've been waiting for, for a long time."
Welbeck, who won his fifth cap, says the squad is relishing the competition for a starting place.
"I've had a few caps under my belt and one or two starts. So, just to get the goal today, I'm really delighted," he said.
"We've got an array of talent across the whole squad and I think everybody's just pushing forward to get on the pitch and show what they can do. And that's only good for England."
Manager Roy Hodgson was delighted with Welbeck and the way he linked up with club team-mate Ashley Young.
"It was a very good goal. I was delighted with the way he took it and delighted with the way they fashioned it," he said.
"It was a good piece of work from the two front players. They worked well together to pressurise the Belgium defence.
"When Ashley played him in I thought he showed remarkable calmness to keep his head on his left foot and chip it over the goalkeeper. That, for me, was the highlight of the game."
Hodgson was pleased with his side's defending but admitted they need to improve at the other end of the pitch.
"In terms of the shape of the team defensively we haven't done too badly," he said.
"There have been some good signs for us there, but there is certainly a lot of work we need to do on our shape offensively.
"Sometimes when we have got the ball we are too wide in the wide areas and not making enough of getting the ball into those pockets behind the midfield players. But it is something we are working on."
Captain Steven Gerrard said the squad can take confidence from back-to-back victories following their 1-0 win in Norway.
"We're on the back of two wins but we're not going to get carried away," said the Liverpool midfielder.
"We know we can still improve and get better, but we've had very little time with this manager.
"So it is going to take time for everyone to settle and get used to it but before the two games I wanted two wins so we're happy.
"The mood's relaxed, we're all working hard and giving our best and that's all you can ask for."