Mickey Thomas tips Gylfi Sigurdsson for Reds, not Swans
Last updated on .From the section Football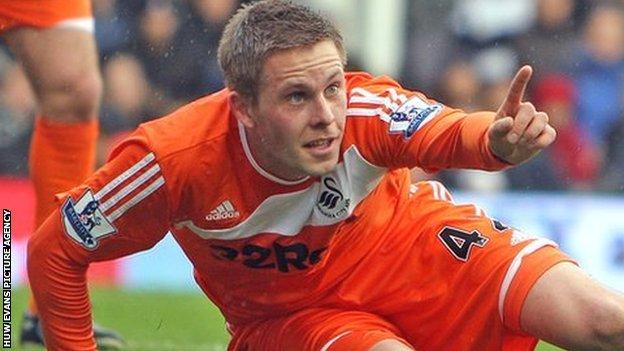 Mickey Thomas has tipped Gylfi Sigurdsson to join Brendan Rodgers at Liverpool rather than complete his proposed permanent move to Swansea.
Rodgers signed Sigurdsson, 22, on loan for the Swans in the 2011-12 season.
But in the wake of Rodgers taking over at Anfield, the Northern Irishman says he would be interested if the midfielder does not sign with Swans.
"Without a doubt, he's going to choose Liverpool," said BBC Wales pundit and former Manchester United star Thomas.
"They're a massive club with massive history, [with] more potential of winning things as well.
"He has to look at it from that point of view.
"And yes, he's done fantastic at Swansea, he's been a great player for them.
"But he's got to look after himself and I think his future will be away from the Liberty Stadium."
Sigurdsson has verbally agreed a club record £6.8m move from Hoffenheim to the Swans, but has yet to sign.
Swansea's agreement for Rodgers to move to Anfield included a clause preventing Liverpool bidding for any Swansea players within 12 months.
The 22-year-old impressed during his spell at the Liberty Stadium and scored seven goals in 17 starts.
Hoffenheim signed Sigurdsson in 2010 for £6.5m from Reading.
Swansea's initial bid, thought to be close to £4m, was rejected by the Bundesliga club, who are keen to recoup the fee they paid for Sigurdsson.
The Welsh club earned £45.9m from television and prize money during their first season in the Premier League, finishing 11th in the table, and so have funds to strengthen the squad.
Sigurdsson said in April he would be happy to stay at the Liberty Stadium beyond the end of the season.
But Swansea chairman Huw Jenkins had also admitted the Welsh club would struggle to keep hold of the midfielder.
Swansea have yet to fill the void created by the departure of Rodgers and some of the backroom staff from the Liberty Stadium.
Thomas believes that will help sway Sigurdsson's thinking.
"I think the player has to look at the future of Swansea City and look at who's going to be manager," said ex-winger Thomas, who also played for Wrexham and Chelsea.
"He does not know that yet. But Brendan Rodgers, who brought him to Swansea... gave him great confidence.
"And I can understand that when he has second thoughts about joining Swansea and maybe going to Liverpool, because Brendan Rodgers [is boss of] a far superior club and a far bigger club, he might want to go to Anfield."
Thomas also hopes Swansea's fans will be forgiving should Sigurdsson end up at Liverpool.
"I think they'll understand that if a bigger club comes in, a player will want to go - for ambitions, of course.
"And looking at Swansea's situation, they have no manager.
It's a very difficult decision that the player has to make, more than anyone.
"But the fans must understand he has to go somewhere better and there's no better place than Liverpool."